Kyra Krakos, PhD
---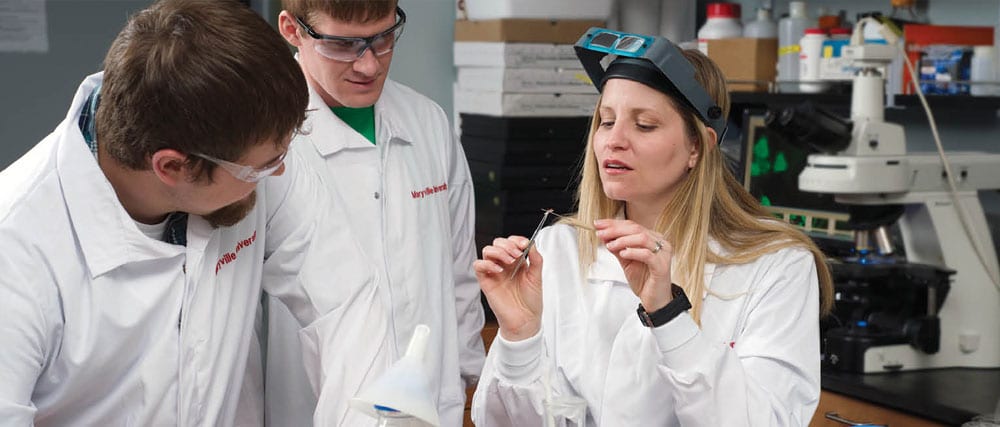 Fielding Research Dreams
Kyra Krakos, PhD, assistant professor of biology, traveled last summer with two students to conduct research at Soapstone Prairie and Warren Air Force Base, near Cheyenne, Wyo. She stayed one week—her students, Adam Hoeft and Ryan Hulsey, stayed three. The experience elevated their learning to a new and exciting level.
"I took the training wheels off," Krakos said. "They were well trained and knew what to do." In fact, they developed so many new project ideas that at some point, Krakos cut them off. "That was so different from two years ago, when they asked, 'What do we research?'" she said. "They now know where the edges are—where to find the next questions."
Hoeft, a senior, and Hulsey, a junior, are both biology majors. Their fieldwork last August was part of a Research 401 course in independent study. While Hulsey aims to become an ecologist, Hoeft leans toward a career in nature conservation. They had previously researched together locally, but their western adventure was a giant step into the larger scientific community.
"I saw tremendous growth in Ryan and Adam after last summer," said Krakos. "That class changed them from students into scientists."
Krakos, who holds a joint position with the Missouri Botanical Garden, said the project is part of collaborative research she conducts with other scientists. Hoeft and Hulsey will complete their fieldwork in Wyoming this summer. Under the guidance of Krakos, they hope to publish the data in a scientific journal by 2015.
"Every moment, it was a privilege to be there," Hoeft said. "I knew this was an opportunity to bridge the gap between Maryville and then next step—employment. It fueled the fire. I know now there's an entire world out there."
While Research 401 students are rarely in a classroom, along with field techniques they learn the language of science, how to design experiments and how to write grants and use primary literature for reference, Krakos said. They also present at regional and national conferences. "This is important because not only do students learn the challenges inherent in preparing projects, but they're exposed to the broader world of science," she said.
Anyone can bag plants and collect seeds and count them, Krakos said, "but to know what to do with them, to know what that means, that's what I want see students learning."