Wyman Teen Leaders Spend Week on Campus
---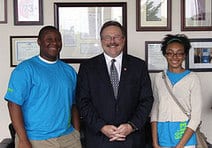 6/18/09
St. Louis area youth from the Wyman Teen Leadership Program recently spent a week living in a residence hall on the campus of Maryville University. Activities included a day of job shadowing, during which the 24 participants spent time with key University staff members to experience the "real" work world and explore future careers.
Wyman is a nationally recognized youth development organization that prepares young people from disadvantaged circumstances to lead successful lives. The Wyman Teen Leadership Program runs for five years, year-round.
"The fifth-year summer experience features a week of community awareness that focuses on how these rising senior high school students can affect change in their own communities," said Naeem Slaise, Wyman's director of community relations. "We spent a week exploring relevant topics using Maryville as our home base."
Through research, discussion, onsite visits and guest speakers, the group delved into areas such as gang violence, drug and alcohol abuse, racism and genderism, lack of parental involvement in a child's education and fairness in school administration. They also devoted a day to professional development, including a morning of job shadowing on Maryville's campus.
President Mark Lombardi, PhD, spoke with Wyman teens about taking advantage of study abroad opportunities and getting involved on campus while in college.
"The Wyman program is vital to the future success of hundreds of young people and that is what Maryville is all about," Lombardi said. "I hope they leave understanding that the most important trait one can master is the commitment to make oneself useful in whatever endeavor one chooses."
In exploring career options, the teens first met with Lynn Willits, director of Maryville's career education center, who discussed interviewing skills, job applications and resume preparation. Afterwards, the students identified areas of personal interest, such as the president's office, public safety, marketing, technology, health professions and athletics.
"This is the first year Maryville and Wyman worked together on this project. The staff and faculty were very welcoming and open to our teens," Slaise said.
Chuck Gulas, PhD, dean of the School of Health Professions, provided an overview of Maryville's programs and talked about the role of a dean and leadership in higher education.
"It was important to me that they have an understanding of our programs, education for health care professions and some different styles of leadership," Gulas said. "I wanted to excite them about careers in health care and higher education."
Gulas also gave his group a tour of the health professions lab facilities, and introduced them to Sim Man, a sophisticated computer simulator that realistically responds to treatments and procedures. Teen leader Victoria Giles said she shadowed Gulas because she's interested in studying pediatrics.
"I wanted to learn about careers in health care and maybe teaching others. It was interesting to see the Sim Man talk and breath. We got to feel the pulse and heartbeat," she said.
Justin Medley, public safety officer, said the students he mentored expressed an interest in future law enforcement careers.
"This experience was important as it allowed each one to speak freely and directly to someone who currently works in their field of interest," he said. "Hopefully, this opportunity allowed each one to create a more rounded vision of what this career field can offer."
Wyman will bring another group of 30 teen leaders to Maryville's campus in July for a week of similar programs and a second day of job shadowing. Maryville will also serve as home base for two groups of rising seniors that are each taking a one week, seven-state tour of colleges this summer.
"Maryville's admissions and enrollment team has really rolled out the red carpet for us," Slaise said. "They gave an overview to parents about what their children will experience and provided the students with important questions to ask so they get the right information during each college visit. When we return, Maryville will host a session on 'what to do now,' in regard to applying for college."
Maryville University President Mark Lombardi, PhD, meets with Wyman Teen Leaders Jared Bell and Amirah Thomas.
Charles Gulas, PhD, dean of the School of Health Professions, introduces Sim Man, a sophisticated computer simulator, to Teen Leaders (l to r) Darrion Alford, Victoria Giles and Cassandra Adams