WEC Lake Saint Louis Location to Open in May
---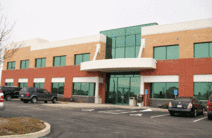 12/10/09
Maryville University has announced that The Weekend & Evening College's St. Charles County Center will open at its new location in Lake Saint Louis on a revised timeline. Classes will begin in May 2010 for the summer semester, rather than in January as previously announced.
The municipal code amendment and special use permit process for introducing a higher education institution into Lake Saint Louis resulted in a revision of the construction timetable for the new site.
"We are the first university to go into Lake Saint Louis, which necessitated meeting additional requirements for the city," said Denise M. Evans, assistant vice president of Adult and Continuing Education for Maryville. "Lake Saint Louis is very excited to have Maryville University join their community – this was made very clear to us at the city's Board of Aldermen meeting when we obtained final code amendment and permit approvals. We're excited to have the opportunity."
Construction is underway at the new location, 3401 Technology Drive, adjacent to the new upscale Meadows shopping plaza at the Lake St. Louis Boulevard exit off Highway 40. The site comprises 11,334 square feet—the entire second floor of the contemporary Gundaker Commercial office building. Students, faculty and staff will enjoy the many convenient amenities located nearby, such as restaurants, fast food, grocery stores and banks, along with easy in/out highway access and well-lit parking next to the building.
What does the construction timeline change mean for students and faculty?
Students taking classes at the St. Charles County Center in Spring Semester 2010 have been notified that they will continue to attend classes at the O'Fallon location until May.
For the summer semester, the timeline change will shift the class schedule for St. Charles County Center back one week in order to facilitate one week of "down time" to move equipment and furnishings.  This means that Lake Saint Louis classes will start one week later in May than The Weekend & Evening College main campus and WEC Southwest County Center classes, and will run for seven weeks rather than eight.
The WEC Main Campus and WEC Southwest County Center schedules will remain the same as listed in the University catalog. This ensures that no student will encounter any course scheduling conflicts from one location to the other.
The changes in dates and times of operation listed below are ONLY applicable to the new Lake Saint Louis location for Summer 2010:
WEC St. Charles County Center – Lake Saint Louis Location — Summer 2010 Schedule:
•    Start date week of May 10; first evening classes begin Tuesday, May 11 and end as previously scheduled in August.
•    Lake Saint Louis evening classes will run from 6 p.m. to 9:15 p.m. to accommodate the shorter seven-week session.
•    Lake Saint Louis weekend classes will take place on the weekends of May 14*, 21*, June 4, June 18*, June 25*, July 9, July 23 and August 6.  Please note that this means that the first and second, and fourth and fifth weekends are consecutive rather than alternating.
WEC Southwest County Center and WEC Main Campus course schedules begin as listed in the University catalog the week of May 3, with weekend classes on the weekends of May 7, May 21, June 4, June 18, June 25, July 9, July 23 and August 6.
Plans for grand opening and open house events are under way to welcome current and prospective students, faculty and staff, and the St. Charles County community to Maryville University's newest WEC location.