Walker Gift for School of Health Professions Building Announced
---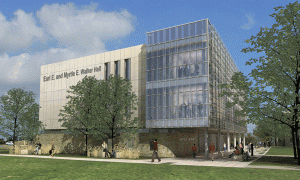 5/10/10
Maryville University has announced that a new building for its School of Health Professions will be named "Earl E. and Myrtle E. Walker Hall" after the longtime philanthropists and founders of Carr Lane Manufacturing Company in St. Louis. The honor is in recognition of a major gift from the Walkers.
News of the Walkers' gift, shared with the campus community on Monday, May 10, comes on the heels of two government grants recently awarded to the School of Health Professions. A Department of Labor grant in the amount of $4.7 million expands the nursing program through the Weekend & Evening College. The U.S. Department of Education awarded a $600,000 grant to fund tuition and scholarship stipends for graduate students in the rehabilitation counseling program.
As part of the commitment, The Walker Scottish Rite Clinic for Childhood Disorders, co-founded by Earl E. Walker, will move to a permanent, state-of-the-art facility housed within the new building. Maryville will also establish scholarships and create an annual Earl E. and Myrtle E. Walker Medal for Excellence in Health and Wellness.
"This gift is both timely and important for Maryville University, but it is also significant for the St. Louis region and beyond," said President Mark Lombardi, PhD. "The Walkers have insured that Maryville's programs will continue to grow and excel, and that we will continue to set the standard in meeting the nation's acute need for top-quality health care providers."
With an aging population, the demand for health care professionals is rapidly increasing. In fact, government estimates indicate that by 2030, nearly one in five U.S. residents – or 72 million people – will be 65 or older. By 2050, that number will reach 88.5 million, creating a greater need for health care providers with appropriate levels of skill, knowledge and expertise.
Maryville University is also on the front lines in addressing the critical shortage of nursing professionals, through its established and well-respected nursing program. Surveys suggest that more than half of nurses currently employed plan to retire within the next 15 to 20 years. At the same time, labor statistics project a need for more than one million nurses by 2016.
Earl E. and Myrtle E. Walker Hall, expected to open in 2012, is designed for cutting edge, 21st century education to meet industry demand. The learning environment will feature laboratories, practice settings, interdisciplinary resources and student-faculty interaction areas to advance collaborative work. At 70,000 square feet, the building nearly doubles the current space available for Maryville's health professions programs.
"Both an aging population and an aging workforce, combined with increased patient demands and more stringent certification requirements, challenge current health professions programs," said Charles Gulas, PhD, dean of the School of Health Professions. "The Walker gift insures that Maryville will continue to serve and attract the most qualified students."
In conjunction with the infrastructure growth of the School of Health Professions, Maryville plans to offer an additional program in speech and language pathology. All current areas of study are expected to grow in enrollment, including nursing, physical therapy, occupational therapy, music therapy, rehabilitation services and rehabilitation counseling.
"We are especially pleased to welcome the Walker Scottish Rite Clinic to campus," Lombardi said. "In the new setting, children will receive the same superior level of individualized care, free of charge, from the Clinic's professional staff.  This move will also provide expanded internships for our students."
"This partnership will help the Clinic continue its goal of helping preschool children with speech-language disorders while offering new opportunities to expand our clinical programs," Walker said. "Myrtle and I especially appreciate being able to help the Clinic and the School of Health Professions at the same time.  It's a creative collaboration that makes perfect sense."
Maryville University presented Earl E. Walker with an honorary Doctor of Humane Letters degree in 2009 in recognition of his many philanthropic efforts, including the sponsorship of major higher educational facility improvements and scholarships. Walker is a member of Maryville University's board of trustees.
He is also an honorary Lifetime Board Member of the Kirkwood YMCA and a 50-year Life Member of the Kirkwood Masonic Lodge, and has received the highest decoration of the Scottish Rite, the Grand Cross of the Court of Honour. Walker serves on numerous boards of directors, including Commerce Bancshares, Inc., Ranken Technical College and the Society of Manufacturing Engineers International Board.
About Maryville University
Founded in 1872, Maryville University is a four-year, private university located in West St. Louis County and ranked by U.S. News & World Report as one of America's Best Colleges in the Masters-Midwest category.  Maryville University students may choose from 50 academic programs, including degrees at the bachelor's, master's and doctoral levels. Among recent graduates surveyed, 82 percent are employed or attending graduate school. More than 16,000 Maryville alumni work and live in the St. Louis region.