Vets Attend Maryville Through Yellow Ribbon Program
---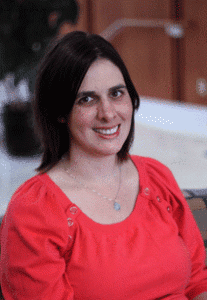 12/18/09
As the first Maryville University student enrolled through the military's new Yellow Ribbon tuition assistance program, Lisa Munch is living her dream of going back to school after serving in the Navy. Until she discovered she could achieve it at Maryville, it was a dream Munch had dismissed as impossible because of family responsibilities and unexpected expenses.
"I resigned from the Navy in 2005 after serving five years as a nurse," Munch said. "I planned to go back to school, but I got married. Then we had twins that were born prematurely and they required a lot of care."
Munch and her husband, Jonathan, now have a third child, Lillian, who is seven months old. The twins, Grace and Mason, are 2 years old and doing well. During that first year, however, Mason required a series of nine surgical procedures, Munch said.
"I couldn't attend school then and I gave up hope that I would ever go back. I needed to work to supplement the health care costs," she said.  "But last summer, I was searching the web and found out the G.I. Bill had changed. If a school would participate, I could get a stipend to pay for books and housing, and the tuition would be covered. It sounded too good to be true, but the wheels started spinning."
Munch discovered that Maryville was a participating university and also offered the program she was interested in – a master's degree in nursing education. Along the way her career goals shifted, however; she is now pursuing a master's degree to become a family nurse practitioner.
"After repeated hospital visits with my son, I started to value not being in a hospital and changed over to the nurse practitioner program," Munch said. "Keeping people healthy and at home – that's where my interest is now."
The Yellow Ribbon program provides a living stipend for students, plus books and up to $1,000 in mandatory fees per academic year. This program allows universities, like Maryville, to voluntarily enter into an agreement with Veteran's Administration to fund tuition expenses that exceed the highest public in-state undergraduate tuition rate.  Universities can contribute up to 50 percent of those expenses. The V.A. contributes the same amount as Maryville.
Veterans who attend Maryville University through the Yellow Ribbon Program can receive tuition assistance for each semester through completion of their degree program.
"Our heroes deserve our support as they transfer into civilian life.  Helping them obtain a top flight education is a great way to salute their service," said Mark Lombardi, PhD, president of Maryville University.
For veterans like Munch, the program fills a tremendous need, particularly when extenuating circumstances might otherwise put the dream of education on hold indefinitely.
"I'm so glad Maryville is doing this, it's such a blessing," Munch said. "If Maryville didn't participate in this program, there's no way I would feel comfortable taking out loans – not on top of the expenses we already have caring for chronically ill children."
"This is the most comprehensive bill that has been introduced to help veterans earn their education since I have been working with our veterans at Maryville University," said Betty Kutilek, assistant registrar. "I'm happy for the five Yellow Ribbon students who started this fall.  Each one wanted to earn their degree at Maryville but did not want to take on the additional tuition expense, along with other family obligations. "
Seventeen Yellow Ribbon students are currently enrolled for the spring semester, Kutilek said.
Veterans are eligible for Yellow Ribbon tuition assistance if they already qualify for Post-911 GI Bill benefits, which include 36 months of service or a discharge due to a service-connected disability after serving 30 continuous days after September 10, 2001. The Yellow Ribbon education benefit may be transferred to dependents based upon a veteran's eligibility.
The University's commitment to helping veterans return to school following their military service is also recognized by G.I. Jobs magazine, which recently named Maryville to its 2010 list of Military Friendly Schools. The honor ranks Maryville in the top 15 percent of all colleges, universities and trade schools nationwide that embrace America's veterans as students.