Veronica Hilyard, '91, wins Ms. Missouri Senior pageant
---
7/10/12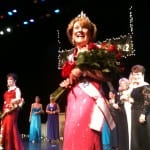 ST. LOUIS – Maryville University alumna Veronica Hilyard, '91, won the Ms. Missouri Senior Pageant in a July 8 competition at the Florissant Civic Center Theater, particularly impressing those in attendance when she sang Puccini's famous aria "O Mio Babbino Caro." 
The pageant, held annually, celebrates the accomplishments of women over the age of 60. It includes four categories: a personal interview with the judges before the pageant, poise in an evening gown, a brief description of each contestant's life philosophy and a talent. Hilyard now goes on to the national competition in Atlantic City, N.J. from Oct. 7-12, 2012.
Hilyard said she would have a busy year, representing senior women around the state of Missouri. "I'm very grateful, but I was just so surprised," she said of winning the pageant, which included 14 contestants. Hilyard first saw the pageant televised a few years ago, one night when she could not sleep. She liked how those involved with the event visited nursing homes and hospitals. She entered the pageant as a portal to allow her similar opportunities. "I thought about, prayed about it, talked to family and friends. This is such a departure from anything I've done," she said.
Hilyard is an active volunteer at Maryville, where she serves as chair of the School of Education's Leadership Council. She earned her Master of Arts in Education from Maryville, concentrating on gifted education, and a Doctorate in Educational Leadership from Saint Louis University. She has also taught at Maryville at the undergraduate and graduate levels.
Maryville's Development Director for Corporations and Foundations Peggy Michelson has worked closely with Hilyard as a liaison to the School of Education's National Leadership Council. She attended the pageant and said, "There was no question that her preparation, her amazing talent and her overall professionalism clearly stood out." Michelson said she sees Hilyard putting her talents to work at Maryville, too, with a wonderful ability to motivate volunteers and structure the work of the National Leadership Council. "She's magnetic. People want to work with her," Michelson noted.
Hilyard has worked as a teacher, principal and superintendent with time at public and parochial schools in Missouri, Texas, Pennsylvania and New Jersey. Her professional accomplishments include her work as the gifted and talented education coordinator for the Parkway School District and as the assistant superintendent of the Ritenour School District. She retired from Ritenour in 2008, but still works as an educational consultant. She also serves as a volunteer educational surrogate for children who are wards of the state.
Hilyard, a University City resident, is married to Harley Smith. She has a son, Christopher Paquet, and a 4-year-old grandson.
About Maryville University
Maryville University, established in 1872, moved to the national universities category of U.S. News & World Report this year. It is one of three institutions in the Greater St. Louis Area ranked in this division. Kiplinger's Personal Finance ranks Maryville in the Top 100 Private Universities in the U.S. for Best Value.