Students Inspired by Service Work in Guatemala
---
7/7/11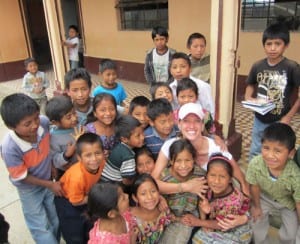 Rebecca von der Heyde, PhD, OTR/L, CHT, associate professor of occupational therapy, has traveled with her students to Guatemala on medical mission trips with the Guatemala Healing Hands Foundation for the past six years. This summer, however, she brought along additional Maryville companions.
In partnership with Cynthia Briggs, PsyD, director of Maryville's music therapy program, and three other faculty members, von der Heyde visited Antigua, Guatemala, with 13 music therapy and occupational therapy students for a groundbreaking, cross-disciplinary service learning trip.
"Our students jumped in with both feet," said von der Heyde. "We worked at a school within an orphanage that has 278 residents. The students demonstrated remarkable tenacity and creativity in adjusting to the language barrier, level of disability, and needs of the residents. In addition, they were notably mindful of cultural differences both personally and professionally."
A detailed account of the trip will appear in the fall edition of Maryville Magazine.
As part of their Guatemala journey, von der Heyde took four students to the village of Chichoy Alto, an indigenous, rural community where she had done outreach work earlier this year. Extra funds raised for the trip were used to buy school supplies for the children in the village, and the students' journal entries seem to indicate that it was an experience they won't soon forget.
"We have had so many wonderful moments and experiences so far with this trip, but the thing that has most impacted me over the last few weeks was the trip to the village of Chichoy this morning.  It was about a two-hour drive up into the mountains.  Roads were windy but the scenery was beautiful." (Carrie Dryer)
"The extra money that was donated to me for my trip, I donated to this village to buy school supplies for the kids. I thought at first that we were going to just drop off the supplies and play with the kids. From the moment we got there I felt like a celebrity. The kids ran to us and were ready for hugs and pictures with us. Every child and adult was so beautiful. I knew right away that it was going to be an emotional day." (Emily Ranz)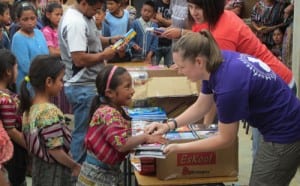 "We pulled up near the school and were greeted by children running up to us. They seemed very interested in us and were very giggly. It was fun to see how excited these children were when we gave them their school supplies. Some of them wouldn't look up; they would just look down at the supplies and give a quiet thank you. Others looked me right in the eye, gave a big smile, and thanked me. I don't think I deserved all of their thanks and gratitude, but I will hold it in my heart regardless." (Emily Cornish)
"The most meaningful experience that I had while in Guatemala was the visit to Chichoy Alto. I realized something so small (school supplies) can make a huge impact on numerous individuals' lives. After handing out school supplies, we walked a short distance to meet a couple of families prior to eating lunch. We were able to see how the families of Chichoy lived. One of the most important things that I observed was how happy the people were with what little they had. It forced me to take a step back and reflect on my life. I now have a greater understanding of what is important and what is not as important in my life. In addition, I will forever be grateful for what I have, and what my parents have worked hard to give me. The people of Chichoy Alto have left a permanent mark on my heart." (Kalli Gibbs)