Students Gain 'Real World' Insight from Business Mentors
---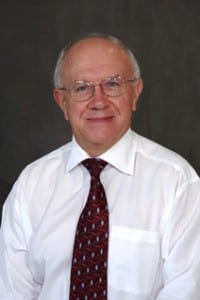 3/31/10
Maryville business students have a unique opportunity in their career development tool belt. Since 2004, Maryville's Simon School of Business has participated in the Regional Business Council (RBC) Higher Education Collaboration Mentor Network.
The program was originally launched in 2003 in an effort by the RBC to retain new business talent in the St. Louis area. Partnering with schools of business and engineering from local universities, the program matches qualifying students with CEO mentors of participating companies.
Each mentor meets with his or her student at least two times within an academic year to provide support and advice regarding the St. Louis business community. The program's original purpose was to provide employment opportunities to graduates, according to John Lewington, PhD, associate dean, and professor of marketing and management.
"The general idea is that the students meet with, and are mentored, by CEOs," Lewington said. "The RBC's original concern was that the area was draining of talent as new graduates were leaving St. Louis to start their careers. They were hoping that by establishing a relationship between the students and businesses, positions would become available with area companies. We haven't had any stellar examples of that, but it's still a great program that exposes students to local businesses and helps them network with CEOs."
Generally, mentors and students discuss resume building and career development. Jessica Lierman, a junior accounting student, gets educational advice from her mentor, Rich Etzkorn, senior vice president of Colliers Turley Martin Tucker.
"When I applied to the program, I was hoping to get a glimpse of the real world and obtain advice from a working professional," Lierman said. "Rich is not a CPA, but he has been a great mentor to me. We talk about Maryville and the classes I'm taking right now and also about various MBA programs that I want to apply for. He also gives me advice on different internships that are available to me."
Etzkorn became involved in the RBC program four years ago. Having benefited from mentorship early in his career, he was motivated to reach out and help young students.
"I had a lot of experienced business people mentor me while growing throughout my career and I'd like to pay it forward," Etzkorn said. "It keeps me energized to spend time with people like Jessica who are still in school. It feels good to give something back to people and forces me to mentally formulate a personal philosophy on work and life that I can then communicate to the mentees."
Some area companies that participate are Centric Group, LLC, Enterprise Financial Services, Sachs Properties and Southwest Bank. Each year, the RBC hosts two Higher Education Collaboration Receptions, one in the fall and one in the spring, to provide additional opportunities for students to network with CEOs from these businesses.
The RBC has also developed an African-American Corporate Network that designates a specific number of opportunities to students of color. This network offers a peer group and further education about opportunities and culture in the St. Louis business community.
For any student, having a successful mentorship depends largely on the student, according to Roger Osorio, graduate assistant and MBA student at Maryville.
"New students need to be themselves and treat the relationship as a friendship," Osorio said. "Don't go in expecting anything. Instead, go in ready to make a new friend. The mentors really want to be there and see students grow and develop. For that to happen, they really need to get to know the students. I would argue that the best benefit a student might walk away with is the genuine friendship of a mentor that extends past the program."