Student teaching opportunity provides adventures in Africa
---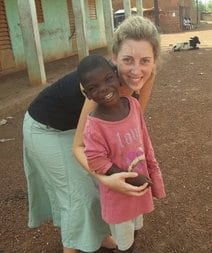 2/20/12
Maryville University senior Kelsey Graczak is student teaching in an environment far removed from her classmates:  in the African country of Burkina Faso.
Her trip to teach there is her third visit to the African nation in the past year. The Affton resident first visited a little town called Yako during a missions trip last January, and she fell in love with the country. "There was a time that I was just walking in town, and I was so overcome with comfort and love for the culture and the people that I knew this wouldn't be my last time coming," she recently recalled by e-mail.
On her first visit to Burkina Faso, she volunteered  at Sheltering Wings in Yako, an organization that serves as an orphanage, school and medical clinic. She returned in June to work at the orphanage, and asked at Maryville if it was possible to complete her student teaching abroad. Maryville professors and School of Education Dean Sam Hausfather, PhD, supported her idea.
Graczak, 22, was accepted to student teach at the International School in Ouagdougou—the capital of Burkina Faso. Classes elsewhere in Burkina Faso are taught in French, while Graczak teaches in English at the International School. Maryville's School of Education and the Center for Global Education awarded Graczak a one-time scholarship to help defray her costs.
Her students are 5-year-old children that come from several countries, everywhere from Canada to Congo. The teacher she is working with is from Germany, and the teacher's aide is from Burkina Faso. "It is quite the diverse classroom, and I love every second of it," she says.  Some of the children already know two languages, and are learning English as their third. "They live for free play time because they are itching to dive into the art supplies and making anything and everything, especially hats."
Graczak says she enjoys her time at the International School. She returns to Yako on weekends to spend more time with the Burkinabe people there.  She hasn't been truly homesick, but does miss her family and friends. "I have family and friends here, but no one can compare to your real mom and dad. I also really miss my dogs. The culture here with animals is very different, and I miss being able to hug and pet animals." (Some of Graczak's photos show her preparing a chicken for a meal, so it's clear she now, as she notes, makes "everything from scratch.")
Graczak's adviser Professor Nadine Ball, EdD, says faculty have seen her blossom as she has traveled to Africa and student taught there. "For us, we've really seen this transformation in her to this excited, outgoing, risk-taking young woman."  Graczak invites those who want to learn more about her time in Africa to visit her blog at http://blogs.maryville.edu/kgraczak/