Scott Angus, MFA
---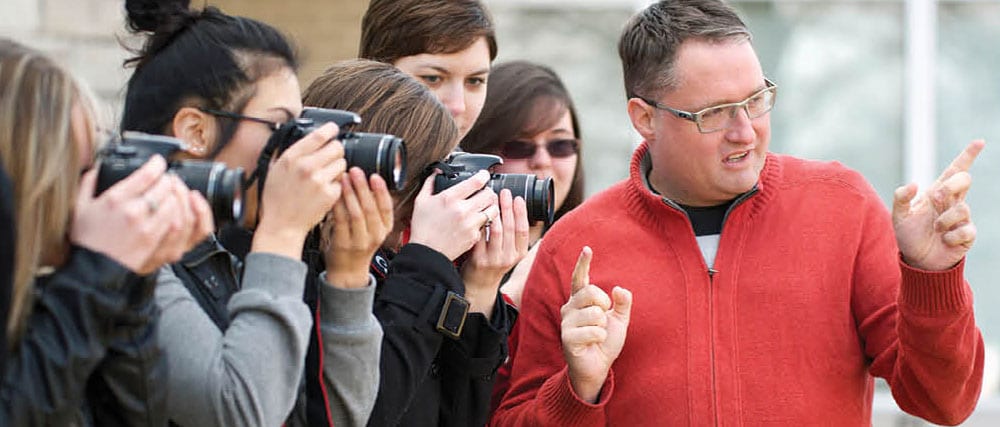 Widening the Lens
Scott Angus, MFA, assistant professor, focuses on giving students a wide lens through which to view the world. Whether his introductory photography class is taught during a study abroad experience or in St. Louis, students are encouraged to seek fresh perspectives and be active participants in the world, he said.
"We use St. Louis city and county as if they're a foreign country or city that we're exploring," Angus said. "We go to the zoo, the wolf sanctuary, The Grove, Lone Elk Park, The Hill—many different places."
This year, Angus tried something different—an immersion experience at a homeless shelter. "Students learn best when they are personally and emotionally connected to the subject matter," Angus said. "I want them to learn the impact photography has on people."
Angus knows firsthand the difference a photograph can make in people's lives. He devotes personal time and talent to Mending Faces International, an organization of doctors who repair children's facial deformities in the Philippines. His photographs of patients are used to inform treatments and surgeries.
Sarah Schwegel, junior, enrolled in Angus's class to learn more about the art of photography. "Through photography," she said, "I learned that things which may not look appealing on the outside may be really beautiful if you look at them from the right perspective."
At the homeless shelter—or other nonprofit organizations of their choosing that serve the poor—students do whatever work is needed, whether that's preparing food, scrubbing floors or filing papers. "Because we can't always photograph the clients, students take photographs in creative ways while they're there. They might photograph the empty kitchen, or shoes," Angus said.
"Professor Angus wants people to learn by doing," said junior Victoria Griffith. "He made sure to take us to places that he thought we had probably never gone—he was right—and take pictures there. This forced us to be creative and step outside our comfort zone."
Field experiences cause students to think differently about a photograph, Angus said. "They consider what it means, what it does and what it says. I teach that the camera can be used for good and bad and it's important students think about how the images they create can do the same," he said.