School of Health Professions Receives $325,000 Grant to Increase Nursing Program Retention
---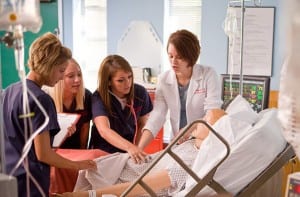 12/9/10
The Missouri Foundation for Health has awarded Maryville University a four-year, $325,000 grant to help increase the retention rate of non-traditional students in the School of Health Professions Nursing Program in The Weekend & Evening College. The funding comes through MFH's Health Care Workforce program to alleviate shortages of healthcare professionals.
The primary focus of Maryville's program will be to increase retention and graduation rates of students enrolled in the program, and increase the number of non-traditional students who pass the nursing licensure exam. The goal of the program is to provide the necessary assistance to help students succeed, which in turn will lead to increased retention rates in the Weekend & Evening Nursing Program.
"Our Weekend & Evening nursing students are extremely dedicated to their educational pursuits and are inspired to be nurses," said Charles Gulas, PhD, dean of the School of Health Professions. "We want to make sure we provide the connection to those resources they need to be successful."
The nursing program will hire a full-time retention coach to help navigate the obstacles often encountered by non-traditional students, who range in age from 21 to 57 and often juggle jobs, financial stress, children and other family obligations. The retention coach will help nursing students overcome these types of barriers, which often prohibit students from completing their degrees.
"This is a unique opportunity to intervene at a time when nursing students may feel overwhelmed by outside obligations, and be tempted to leave the program before completing their degrees," said Elizabeth Buck, PhD, director of the nursing program. "The retention coach is part cheerleader, part counselor, and overall mentor—an advocate within the University who understands their situation and can work with them to find viable solutions."
The Missouri Foundation for Health was created in 2000 following the conversion of Blue Cross Blue Shield of Missouri from nonprofit to for-profit status. Today, it is the largest healthcare foundation in Missouri and among the largest of its kind in the country.
About Maryville University
Founded in 1872, Maryville University is a four-year, private university located in west St. Louis County, and ranked by U.S. News & World Report as one of America's Best Colleges in the Regional Universities (Midwest) category. Maryville University students may choose from 50 academic programs, including degrees at the bachelor's, master's and doctoral levels. Among recent graduates, 82 percent are employed or attending graduate school. More than 16,000 Maryville alumni work and live in the St. Louis region.