Satisfied First-Year Students Return in Record Number
---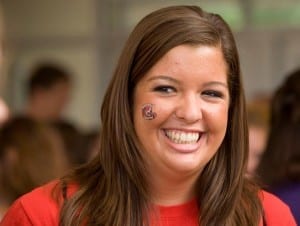 9/29/10
Maryville University has announced a record retention rate of 84 percent for returning first-year students. The accomplishment is the result of enhanced programs for incoming students and greater campus-wide collaboration to ensure their success, said Jennifer McCluskey, PhD, associate vice president and director of the Center for the First-Year Experience and Advising at Maryville University.
"This is a tremendous milestone in our efforts to extend Maryville University's historical reputation as a community and institution where faculty and staff invest in the students' lives," said McCluskey. "Students know they are getting a challenging, valuable education."
Emphasis on improved communication across campus about student needs is one reason Maryville's retention rate has continued to climb in recent years, McCluskey said. As a result, students have acclimated more quickly and with significantly more academic and personal success, she said.
The University Seminar program, which offers a wide variety of themed courses for first-year students, also contributes to a strong retention rate, said McCluskey. Peer mentors are involved in the program, serving as role models and resources.
"Colleges must live up to and exceed expectations in order for students to stay after their first year. Maryville's continual increase in retention over the past few years is a reflection of our entire campus providing a multitude of attractive incentives," said McCluskey.
In another specific area of retention, Maryville continues to excel. Many institutions struggle to retain students with undeclared majors – however, 80 percent of students who have not declared an area of academic study choose to return to Maryville.
"Maryville makes a concerted effort to be actively engaged with our undeclared students to assist them in finding their passion and to help them identify a career in which they're most likely to thrive," McCluskey said.
About Maryville University
Founded in 1872, Maryville University is a four-year, private university located in west St. Louis County. Ranked by US News & World Report as one of America's Best Colleges in the Regional Universities – Midwest category, Maryville University students may choose from 50 academic programs, including degrees at the bachelor's, master's and doctoral levels. Among recent graduates, 82 percent are employed or attending graduate school. More than 16,000 Maryville alumni work and live in the St. Louis region.