Confirmed COVID-19 Cases: Management, Communication and Tracking
MU is taking many steps to protect the health and safety of our campus, yet employees and students will test positive for COVID-19 as they return to campus and our campus density increases. Below you'll find information on how positive cases are managed and communicated, as well as the weekly number of positive cases within our campus community.
Managing and Communicating About Positive Cases
When notified of an employee or student who has tested positive, MU will work with the St Louis County Health Department to report the case, initiate contact tracing and connect with anyone they identify as a close contact.
The CDC defines close contact as having been within 6 feet for 15 minutes or longer, 48 hours prior to when symptoms first started with the infected individual or coming in contact with respiratory secretions of an infected individual (such as sneezing or coughing).
Faculty, staff and commuter students who test positive for COVID-19 must self-isolate at home for at least 10 days. They may not return to on-campus activities until they have been discharged from isolation by their local department of health or health care provider and approved in writing by the University. They may continue to take part in virtual meetings, classes and perform other job duties remotely, provided they are well enough to do so. Residential Students who test positive for COVID-19 must immediately notify the Health and Wellness Office and isolate in place until receiving further instructions.
You will be contacted only if you are identified through contact tracing as having come into close contact with someone who has COVID-19. If you are not identified as a close contact by the local health department or Maryville contact tracers, you have no special precautions to take at this time and will not be contacted.
MU will not send a university wide communication each time a positive case occurs. Rather, Positive cases will be tracked and updated weekly — see below for the latest number of confirmed cases in our campus community.
The local public health department may contact an employee's supervisor if further contact tracing of the COVID-19 positive individual is needed; however, the actual test result and all other protected health information will not be disclosed.
Individuals on campus who are not symptomatic but would like to be tested can find testing sites by visiting: stlcorona.com/st-louis-county-testing-locations/ If you test positive for coronavirus, no matter where you are tested, you should immediately report it though the daily health screening that is sent out each day.
Returning to Campus After a Positive Diagnosis
Permission to return to campus will be granted once these conditions are met:
The individual remains fever-free without the use of fever reducers for 72 hours.
The individual shows improvement in symptoms.
It has been at least 10 days since their symptoms first appeared.
The individual has been discharged from isolation by their local department of health or other health care provider (in the absence of a department of health). Documentation of discharge from isolation will be required and may be emailed to HR for employees or to Health and Wellness for students.
Permission to return to campus will be provided in writing, usually through email.
Confirmed New Cases by Week
Due to privacy laws, there is limited information we can provide in relation to positive cases of COVID-19. MU provides weekly updates of confirmed on-campus COVID-19 cases (individual was on-campus within 5 days prior to a positive test result). The charts below provide the weekly number of new on-campus COVID-19 cases as well as the overall total cases, total number of individuals recovered, and data from mass testing events.
Spring 2022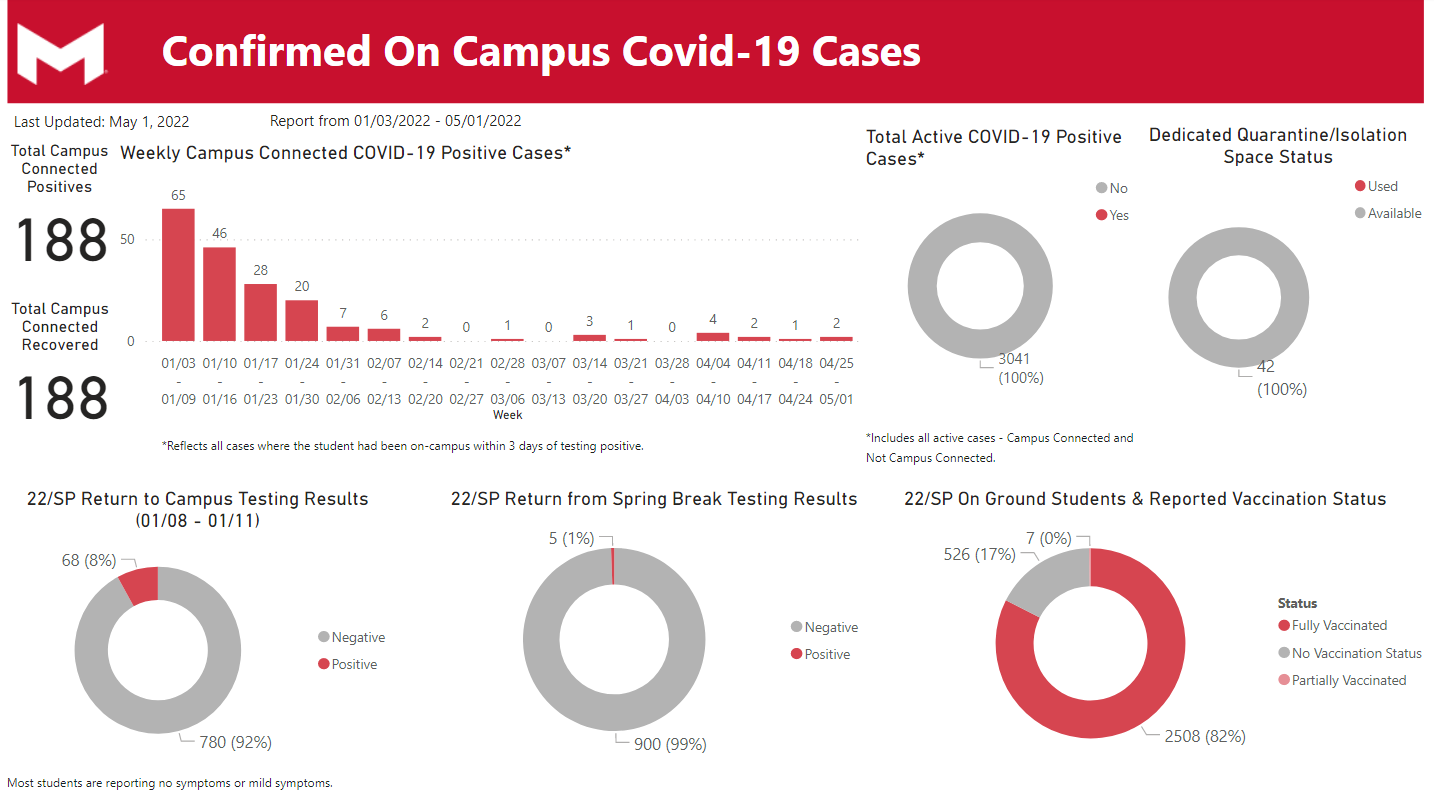 Fall 2021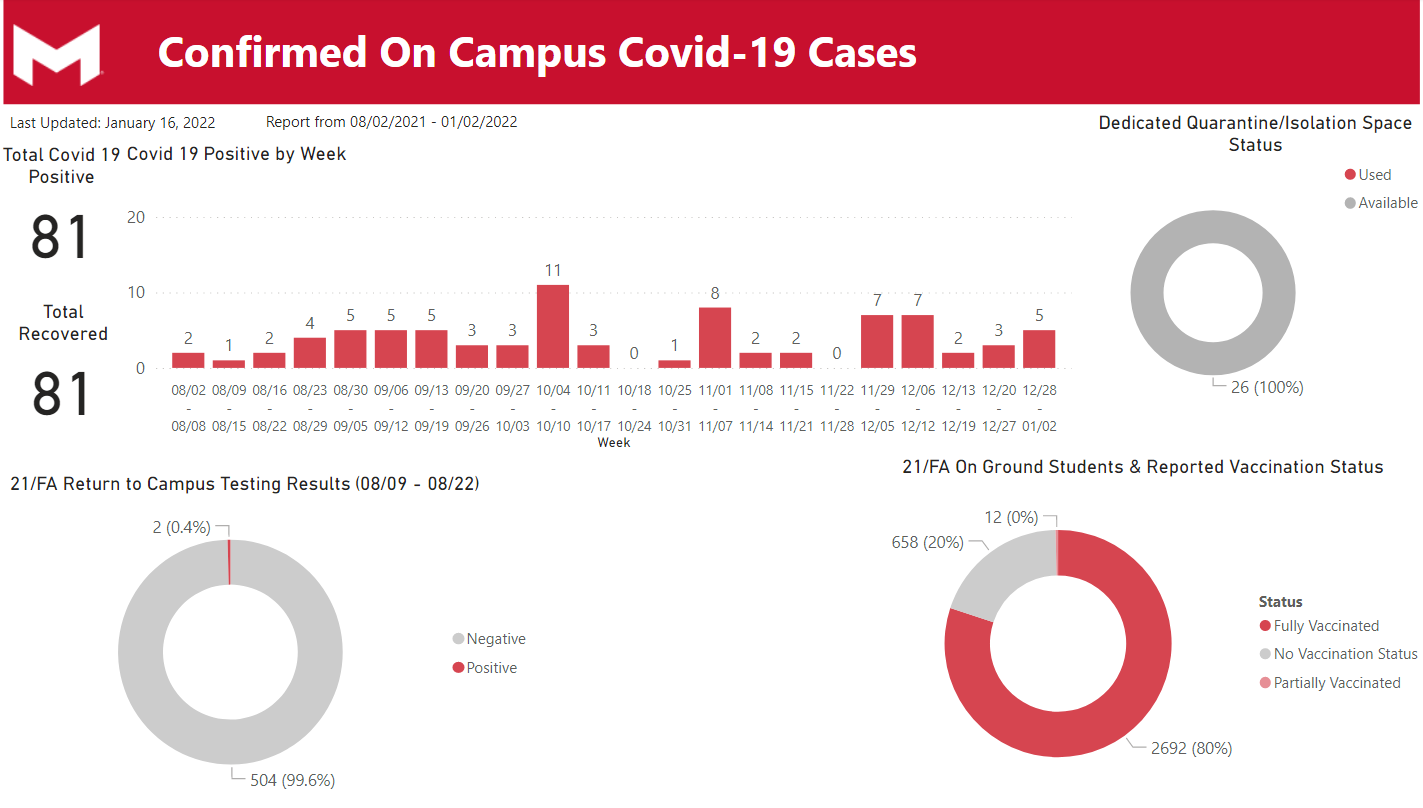 Spring 2021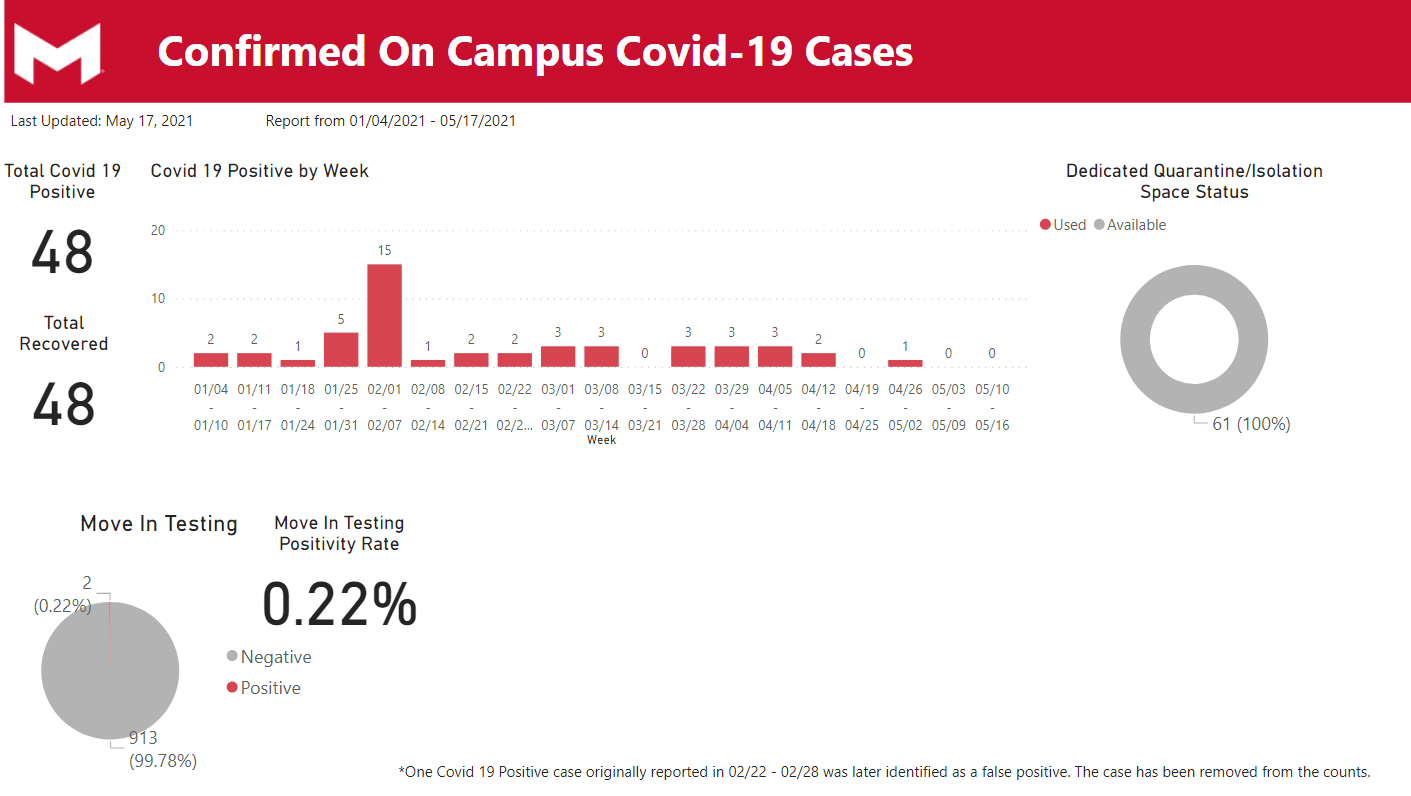 Fall 2020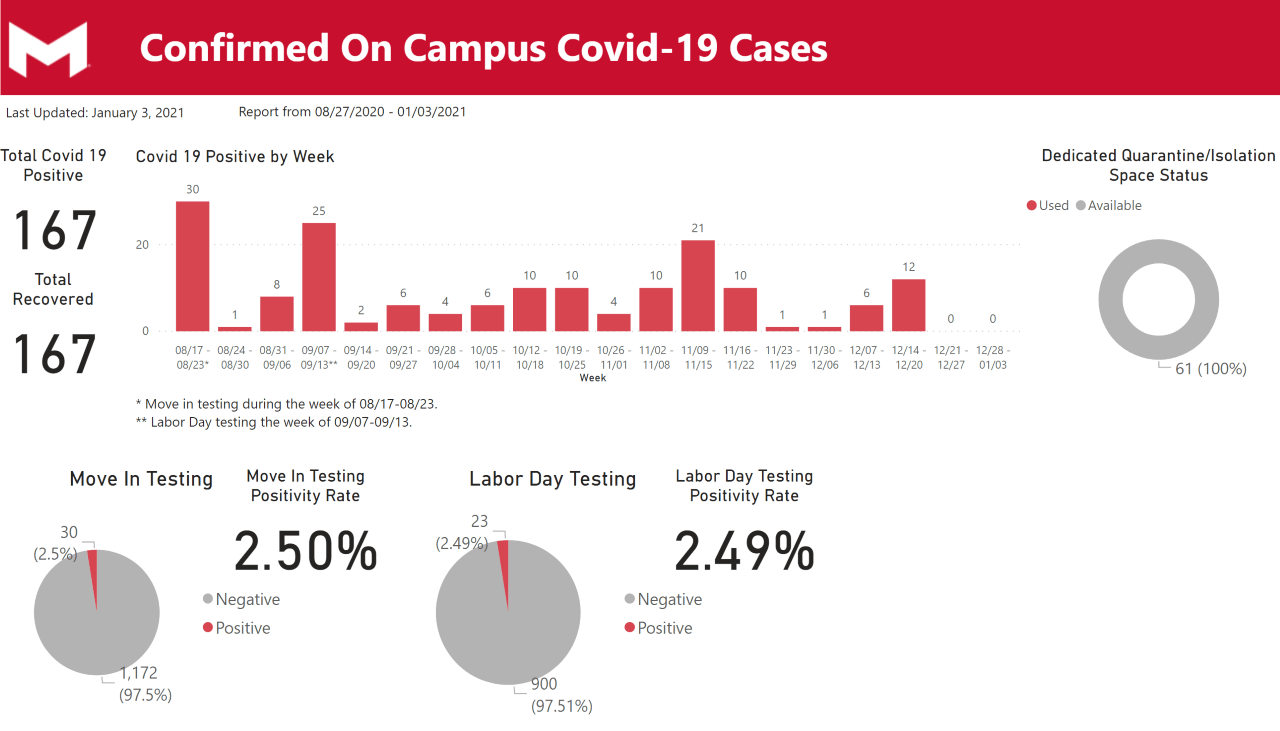 Summer 2020
Week Of
Confirmed New Cases
Total Positive Cases Reported
From July 26th – August 16th
1st reported case July 26
1
1
July 27 – August 2
1
2
August 3 – August 9
0
2
August 10 – August 16
0
2