Ribbon Cut on New Residence Hall
---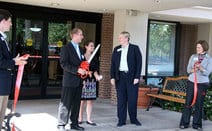 9/8/10
Maryville University cut the ribbon on its new residential facility, Maryville Hall, in a ceremony held Wednesday, Sept. 8. Situated within walking distance of all campus buildings, Maryville Hall, a renovated former hotel, is located on Maryville Centre Drive, near I-64 and Woods Mill Road. With its opening, 250 students are provided a safe, comfortable living environment that features a wide array of amenities.
"Maryville is a student-centered institution and that commitment extends beyond academics," said President Mark Lombardi. "We're dedicated to providing state-of-the-art facilities that include this residence hall, a new dining hall and additional facilities to enhance the student campus experience."
Alderman Phil Behnen and Director of Planning Sharon Rothmel of Town & Country were on hand for the ceremony, along with other University friends and business partners.
"Everything Maryville University is doing – from this residence hall to the main building renovation to the new soccer practice field – is really enhancing Town & Country. We have a great relationship with Maryville University and we love to see the school succeed," said Behnen.
About Maryville University
Founded in 1872, Maryville University is a four-year, private university located in west St. Louis County. Ranked by U.S. News & World Report as one of America's Best Colleges in the Regional Universities – Midwest category, Maryville University students may choose from 50 academic programs, including degrees at the bachelor's, master's and doctoral levels. Among recent graduates, 82 percent are employed or attending graduate school. More than 16,000 Maryville alumni work and live in the St. Louis region.