Maryville University Remembers Barbara Parker, Director of Rehabilitation Programs
---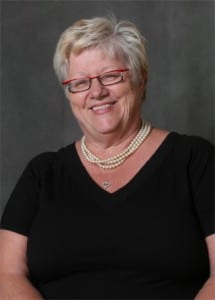 8/2/10
Maryville University mourns the sudden loss of beloved faculty member Barbara Parker, PhD, CRC, LCPC, associate professor and director of the rehabilitation counseling and rehabilitation services programs. Parker, who taught at Maryville for the past 10 years, died at her home on July 31. She was a resident of Belleville, Illinois.
A memorial service will be held on the campus of Maryville University at 10 a.m. on Friday, Sept. 24, in Huttig Chapel.
Parker was one of the first educators hired for Maryville's graduate program in rehabilitation counseling.  Under her direction, the undergraduate program in rehabilitation services was established in 2005. Parker was known as an innovative leader who helped to expand the depth and outreach of both programs.
A colleague of Parker's, Michael Kiener, PhD, CRC, associate professor, remembered her as a dedicated and thoughtful educator who was interested in seeing people achieve their goals.
"Barb was known to talk about passion, and that's fitting because she was so passionate about her family, her students and her work," Kiener said.
"She will be greatly missed in the community," said Geralyn Frandsen, EdD, director of Maryville's gerontology certificate program and coordinator of the masters of nursing education program. "As a co-worker, she was sensible, and could see through any problem to find the solution. She was also a wonderful mother, and a real friend to the homeless, the helpless and the lonely."
Parker was a recipient of the School of Health Professions Distinguished Faculty Award and of the President's Award for Excellence in Community Service at Maryville. She was also recognized as a 2007 Outstanding Professional by the State of Missouri Marriage and Family Therapy Association.
Last spring, Drake University presented Parker with its Alumni of the Year award.  She earned her B.S. degree in rehabilitation services from Drake in 1995, her master's degree in rehabilitation counseling and administration from Drake in 1997, and her doctorate in higher education leadership from the University of Missouri-St. Louis in 2009. Her dissertation topic was "A Qualitative Study: The Post-Incarceration Experience of Women with Post-Secondary Education."
Upon learning of the Drake honor, Parker said: "I do what I do every day out of love and passion for my profession. I never think about what I am doing as noteworthy, I just try to touch people who want more out of their life and who, I believe, deserve it," Parker said.
"She has been a gift to Maryville University and to each of us," said Randy Keys, a 2009 graduate of the master's program. " As students, we have been recipients of her knowledge and have been energized through her spirit and determination. Dr. Parker's influence will be with us for as long as we share what we have learned and continue to do the work of a rehabilitation counselor."
Along with her teaching and administrative roles at Maryville, Parker also served as a liaison between social service agencies providing sheltered workshop and supported employment to people with disabilities and Maryville's graduate rehabilitation counseling program.
In addition, she worked in private practice; helped to develop and deliver the Discover Careers in the Health Professions Camp for 5th-8th grade students in the St. Louis Public Schools for ARCHS; provided development training for Metropolitan Workforce Partners of St. Louis (where she was a founding member), ARCHS and St. Patrick Center; and served on the board of directors for Opal's House, a shelter for abused families.
As a consultant with Connections to Success, Parker garnered state and local funds to develop and deliver an innovative model of service to welfare recipients and ex-offenders. She also provided staff training and program support.
Parker was instrumental in the awarding of a $600,000 grant to Maryville in 2009 from the Rehabilitation Services Administration of the U.S. Department of Education. Stretching over a five-year period, the award funds tuition traineeships and scholarship stipends equivalent to one year of graduate study for students who live in rural areas and who cannot afford tuition.
Parker also participated in the writing and submission of two federal grants awarded as pilot projects to social service agencies in the St. Louis region. Both grants serve offenders transitioning back to the community.
She is survived by her husband, Neil Parker; her children, Sandra (Mark) Hinderliter of Houston, Texas, Taylor (Gwen) Parker of Coralville, Iowa and Sarah Parker of Fairview Heights, Ill.; her grandchildren, Charlie, Lindsey, Andrew and Jonathan Hinderliter, Dalton Brockman, Carter, Cambelle and Cruse Parker; her father, Thomas Taylor; her mother, Jane Buchanan; a brother, David (Debbie) Taylor of Macomb, Ill.; two sisters, Pat Seck of Waggoner, Okla., and Diane (Vern) McBride of Macomb, Illinois.
A memorial service will be held at 10:30 a.m. on Sept. 25 at the Deliverance Mission Church, 3 Emerald Terrace, Swansea, Ill.  A light meal will be served afterward for anyone that wants to attend. The family requests that donations be made to the Impact Center, an after school program sponsored by Living the Word church in East St. Louis, Ill.