Record Enrollment for Freshman Class
---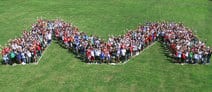 8/31/09
The largest freshman class in the history of Maryville University has enrolled this fall. The 345 students of the Class of 2013 represent an 8 percent increase over last year's enrollment.  Total student enrollment – including undergraduate, Weekend & Evening College and graduate students – is expected to reach more than 3,600 students, a 2.5 percent rise.
"These numbers are great news for Maryville," said Mark Lombardi, president of Maryville University.  "Our long-range strategic plan sets a goal for total enrollment of 5,000 students by 2014. Our fall enrollment this year demonstrates that we remain on track to realize our goal despite the challenging economic climate."
With the increase in first-year students, Maryville's residence halls are at full capacity with approximately 615 students. The University recently renovated an additional on-campus apartment building to accommodate the record number of students.
"Recruiting students always reflects a team effort by all members of a university community," said Jeff Miller, vice president of enrollment.  "Our existing student body has enthusiastically helped us convince others that Maryville represents a cost-effective place where students can flourish in a wide array of academic disciplines. "
Maryville University, founded in 1872, is a four-year, private university located in west St. Louis County. Ranked by U.S. News & World Report as one of America's Best Colleges in the Masters-Midwest category, Maryville University students may choose from 50 academic programs, including degrees at the bachelor's, master's and doctoral levels. Among recent graduates, 94 percent are employed or attending graduate school. More than 15,000 Maryville alumni work and live in the St. Louis region.