Rebecca Dohrman, PhD
---
Building Strategic Portfolios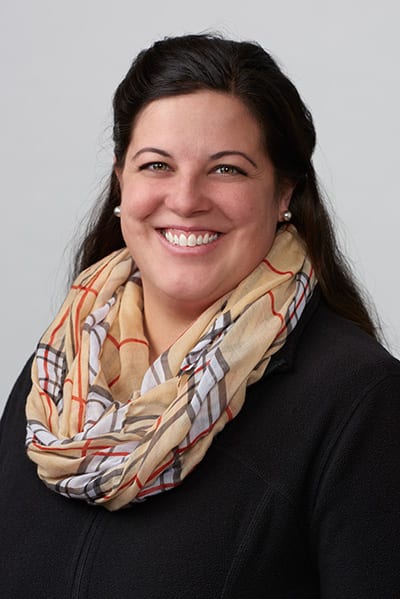 In a typical strategic writing class, students use hypothetical prompts from a textbook to create materials for fake clients. That wasn't good enough for Rebecca Dohrman, PhD, assistant professor of communication and director of the undergraduate communication program. In her classroom, students work for actual clients while learning the ins and outs of media relations, radio, social media and more.
Recently, Dohrman asked STL BUDS to give students a challenge to solve. In the first class of the semester, the executive director tasked the students with creating an event to increase awareness about the organization, which promotes organ donation and seatbelt safety.
"By the end of the course they had a set of 10 written pieces that were all geared to the event they had designed and conceptualized," Dohrman says.
For a class of juniors and seniors, such a robust portfolio of tangible work is an incredibly valuable tool after graduation.
"The students have these really wonderful, powerful portfolios that they can use … at the end of their program, not just in our portfolio defense, but in their job interviews," Dohrman says. "It's really impressive to prospective employers."
The portfolios also wowed STL BUDS. On the last day of class, the students pitched their work to the executive director, who picked one winner to receive extra credit.
"The nonprofit really gained something of value out of the course because they walked away with about a dozen portfolios for events that had already been thought through," Dohrman says.
For many students, this presentation is one of many they will give to class clients during their communication program. Pitching to someone other than a professor not only prepared them to hit the ground running after graduation, it also brought out their competitive spirits.
"My favorite part of this project was being able to pitch my idea to our client at the end of the semester," says Jeffrey Andy Painter, junior communication major. "I felt as though I was competing for a job, and it made my drive to work increase dramatically."
Using outside clients in her classes keeps the content relevant and interesting, Dohrman says. Lauren St. John, junior communication major, appreciates the approach. She's taken two classes with Dohrman and calls her favorite professor motivational, inspirational and supportive.
"Her classes are extremely challenging because she is trying to prepare us for the real world," St. John says. "Her classes, tough as they can be, have truly prepared me for my career, and the skills I obtained from the STL BUDS campaign have already proven to be useful in other classes and at my internship."
(First published in the Spring 2015 edition of Maryville Magazine)