Quinn Saluted as 'Angel in Our Midst' for Longtime Community Service
---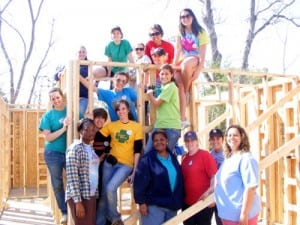 4/20/11
Kathy Quinn, associate dean of students for Maryville University, has been recognized for her longtime work with Habitat for Humanity by WEAR ABC 3-TV in Pensacola, Fla., in the news segment, Angels in Our Midst.
This year, as she has for the past 15 years, Quinn recently accompanied a group of 14 Maryville students to Florida for an alternative spring break—one in which the primary objective is not maximizing beach time; rather, the students are there to help build a house with Habitat for Humanity. For the television news program, Quinn and Maryville graduate student Kristen Dobberstein were interviewed about their service work.
"We tell our students prior to going on the trip that our purpose is to build a house, but really what ends up happening is that we build ourselves—we build relationships, memories and lifelong friends at the same time that we're building a home for someone," said Quinn, who sponsors the students along with Pam Culliton, director of Health and Wellness.
Working with a Habitat for Humanity team, students are shown a slab of cement when they arrive, which they frame out with windows and doors during the week; by the time they leave, they're putting shingles on the roof, Quinn said.
Kayla Hawk, freshman, looked forward to the spring break opportunity, especially because one of her school research projects was focused on Millard Fuller, founder of Habitat for Humanity.
"I realized that being part of something so big and giving back to the community was an experience I just couldn't pass up," she said.
Jasmine Gibs, sophomore, had traveled with a Maryville contingent last fall that helped to rebuild in New Orleans.
"After going to New Orleans during winter break I realized that I really love doing community service outside of my home in St. Louis," she said. "I love being able to help people. Making a difference, while getting to know other people from Maryville, is an experience like no other."
"Projects like this are life changing, and I hope that it encourages us to be the best people we can be and to always help," said Bennet Hoff, sophomore.
As part of the week's activity, the students were invited to participate in the dedication of the home built by Maryville students in the prior year.
"I was quite touched that our students enjoyed going to the dedication of the house we built last year, even though none of them had been a part of that particular build. The new owners, Charlotte and Nancy, couldn't stop smiling and thanking all the partners that contributed to the building of their house," Culliton said. "They not only graciously invited us into their new home with open arms, but with open hearts. They let us into their life and allowed us to hear their story and how Habitat for Humanity and volunteers from our own University helped change their lives."
Freshman Bayli Mooney said the trip was exciting from the first day on the job.
"We didn't realize how much work we were going to do and how many nails we were going to hammer," she said. "The first day was a blast because even though I hammered most of the nails sideways and had to pull them out, it was something to laugh about and remember. It was also something to look back on and to see how much everyone improved each day."
Before the adventure began, sophomore Kristen Wolf said she had no idea how much the experience would mean to her, but also to her family.
"I've been getting phone calls from family members saying how proud they are. I feel more confident in myself and have already planned to save this summer for next year's trip," she said.
Freshman Chelsea Carroll said she enjoys helping others and dedicating time to service projects.
"I was excited to have the opportunity to spend my first college spring break building a house for Habitat," she said. "There's so much that can be learned by putting what I want aside and working with a team for such a beneficial organization. Some of the highs of the week included being a part of the dedication service on Thursday, getting to know everyone on the team better, and realizing our potential as students to make a difference," she said.
Sophomores Kelsey Wolken and Cody Ellis, and juniors Marsha Ianniello and Molly Keiser, signed up for the trip—which had a waiting list of students—to make a difference in someone's life by helping to provide them with a safe place to call home.
"Although that probably sounds generic, it's true," said Ellis. "For this spring break I wanted a memory that held more meaning to it. I wanted to feel like I accomplished something."
"We summed up our week with words like friendship, impact, experience, hard work and community building," Carroll said.
"Now that we're back I've realized how much more I got out of spring break by devoting my time to help others," said Rae Boeckmann, freshman.
"This trip was a truly humbling experience and I enjoyed every moment of it. I can't wait to partake in more community service opportunities," said junior Christine Rigg.
Emily Henderson, freshmen,  said working with Habitat for Humanity was a life changing experience.
"Facing one's fears, not knowing what you are doing or who you are doing it, with tested my capabilities and in the end made me feel more confident," she said.
Rebekah Sander, junior, also participated in Alternative Spring Break 2011.