Professor's work comes full circle in the Philippines
---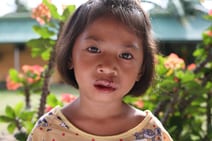 2/19/12
Maryville University Assistant Professor of Studio Art Scott Angus traveled more than 8,000 miles to the Philippines in February where he will meet Romeo Ramirez, the first child he photographed 13 years ago while volunteering for an international effort to fix facial deformities, including cleft palates. Angus is looking forward to meeting Ramirez, now a young man, and learning how the surgery improved his life.
Angus joins surgeons and other health professionals who volunteer with Uplift Internationale, a Denver-based organization started by maxillofacial surgeon Dr. Jaime Yrastorza. The organization has helped more than 1,200 children in Yrastorza's native country. Angus has visited the Philippines six times to document the efforts.
Angus takes photographs of children before, during and after their cleft lip or palate surgery and visits their homes to document how they live.
This year Angus is excited that recent Maryville graduate Megan Sparks, 21, applied and was accepted to the team. Sparks, of Creve Coeur, Mo., will train with Angus to take surgical photographs and document operations by some of the world's top surgeons.
Sparks and Angus will teach local residents digital photography skills, so they can take technical photos of children who need surgery after they leave. E-mailed images will help doctors evaluate cases and help the entire medical team prepare for surgery. Photos taken following the surgery help doctors track recovery. The pictures also help to raise awareness and funds.
Angus, who joined Maryville's faculty in August, has launched a program based in fine art photography that allows students to combine photography with other subject areas, including nursing, forensic science, business and communication.
He is converting a former darkroom into a modern digital photography laboratory and lighting studio for art-and-design students. He studied photojournalism at the University of Missouri–Columbia.
Sparks, a 2011 Maryville graduate who wants to attend dental school, says, "I'm pretty excited. It's a fabulous opportunity to shadow oral surgeons and is going to be a great experience." She applied directly to Uplift Internationale to qualify for the trip and raised about $2,000 to cover trip expenses.