Welcome to the Parent and Family Orientation Course
You are an important part of your student's successful collegiate experience. That's why, in addition to our parent page and orientation activities, we want to share with you the resources and support systems available to help your Maryville student succeed. Think of this as your first "course" at Maryville, too!
What does it mean to be a Saint?
Select a topic below to get started
You can also move from section to section by clicking on a subject in the red navigation bar at the top of the page.

Life Coaches
Each student at Maryville works closely with a life coach who serves as a resource, a guide, and a mentor. Your student's life coach is approachable and accessible; they serve as a confidante when questions develop, as a source of support when concerns arise, and they are eager to celebrate your student's successes. Life coaches help guide students through academic and career planning decisions and help student with their transition into the Maryville community.
Life Coaching at Maryville
Advice for Parents & Family Members
We are partners! We value your input. If you are sending something that you think we should know, please reach out! Adjusting to academics in college can be difficult at first, for all students! Don't be surprised if their grades aren't exactly the same as in high school. When your student encounters challenges, encourage them to use their resources and strengths to overcome them. This helps students build independence and confidence in their abilities.
Your student is now the writer, director, and star of the show (as scary as that might sound!)- yes they need space to grow and learn and just be, but they need you now more than ever! Your confidence in them and continued love and support will be essential to their success!
Encourage your student to keep in touch with their Life Coach – we are here to help!
Back to Top
Living & Dining at Maryville
On-Campus Housing
Whether you live on campus or commute to campus we are all #OneTeamOneFamily at Maryville University.  The Residential Life program at Maryville strives to meet the differing needs of a changing student population. All students living in university housing can expect a high-quality residential program that provides a fun, supportive, and challenging environment where every student can live, learn and develop academic and social skills.
This year on our campus, residents can expect numerous events ranging from social, get-to-know-you activities, to programs and services designed to help students become more successful in the classroom.
Contact Us
Residential Halls
Dining on Campus
At Maryville students have a ton of options for dining on campus. From Louie's to Starbucks, our students love the variety and options for all their meals and snacks!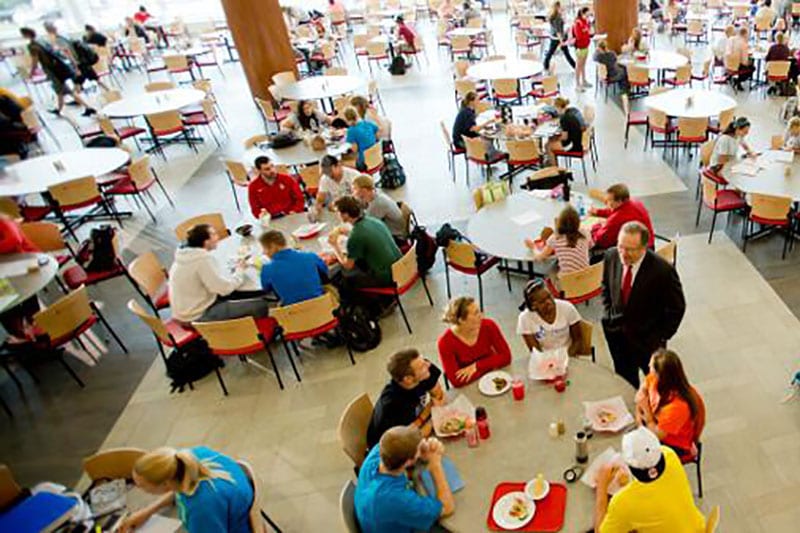 Food should be a fun, memorable experience for all. Our dining halls are arranged around destinations – action station areas that promote fun and excitement at everyday meals. Instead of all the food preparation occurring behind the scenes in a back kitchen, Fresh Ideas brings the action of a kitchen to the students. Food can be exciting, beautiful, tasty, and fun – an experience to remember.
• This pay-as-you-go dining venue offers a variety of menu options. 
• Food is produced from the freshest ingredients and prepared just for you. 
• The Mongolian Grill allows students to customize their meals with assorted ingredients.
• Enjoy a great sandwich from our Deli or try a traditional meal from Chef's Table.
• Gander Dining also offers a variety of Italian cuisine at the Pizza station and has an array of healthy options pre-packaged and ready to go!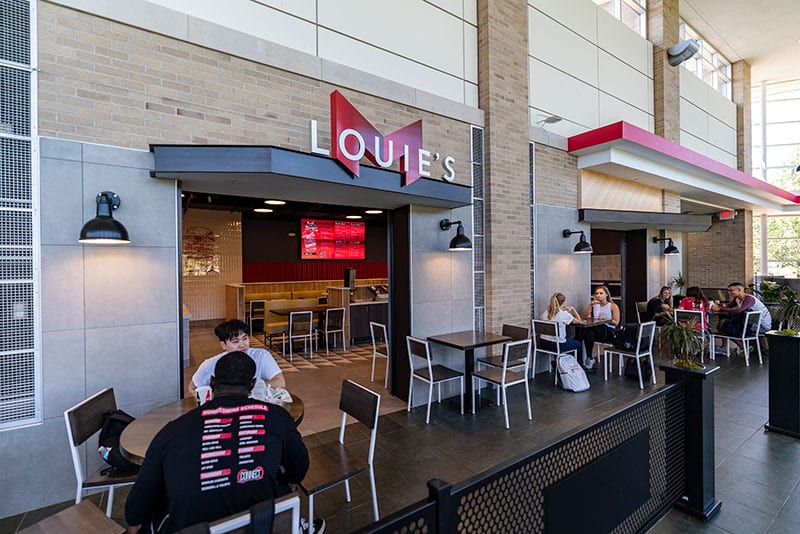 Louie's is located in the Donius University Center (also known as the DUC). It's a great alternative to the dining hall, a meal on the go, or to meet a friend for or a bite to eat and for late night study sessions.
• Louie's is a modern take on American fast-casual dining.
• Maryville Louie's features freshly made, build-your-own-burgers; offering guests a large variety of toppings and sauces to create a burger as unique as they are.
• Chicken Bites, Signature Salads, and sweets such as our Warm Cookie Sundaes are all part of our chef-designed menu.
• Guests should look for special items on the Late Night menu.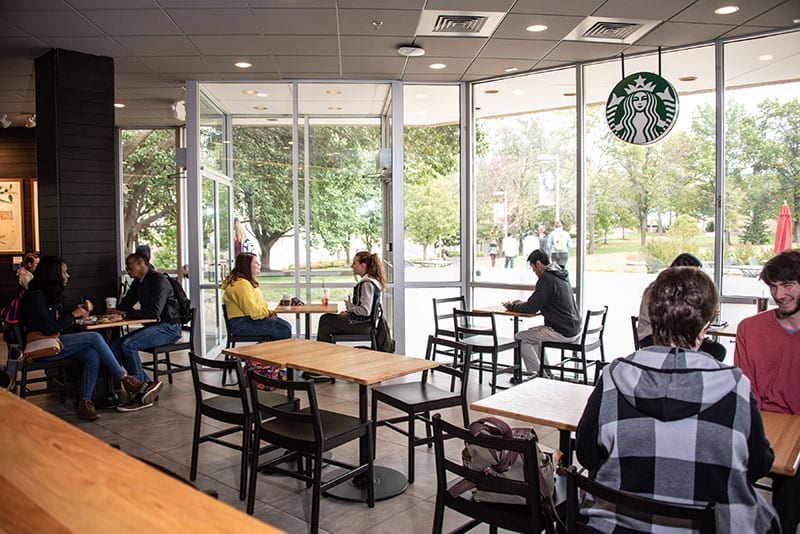 Located in the same building as the library, this fully licensed Starbucks has all your favorites. 
• At the Maryville campus Starbucks you can enjoy a gourmet coffee and snack in a contemporary setting.
• The menu features your Starbucks favorite espresso and coffee creations including delicious flavors like White Chocolate Mocha and Caramel Macchiato.
• Not in the mood for coffee? Try the Tazo Chai Latte or one of our delicious frappuccinos.
• Starbucks is open morning through the evening so you'll have a study partner.
• Pair your favorite drink with a variety of freshly prepared items, including sandwiches, and a variety of snacks.
• Watch for new items on the menu and seasonal coffee specials.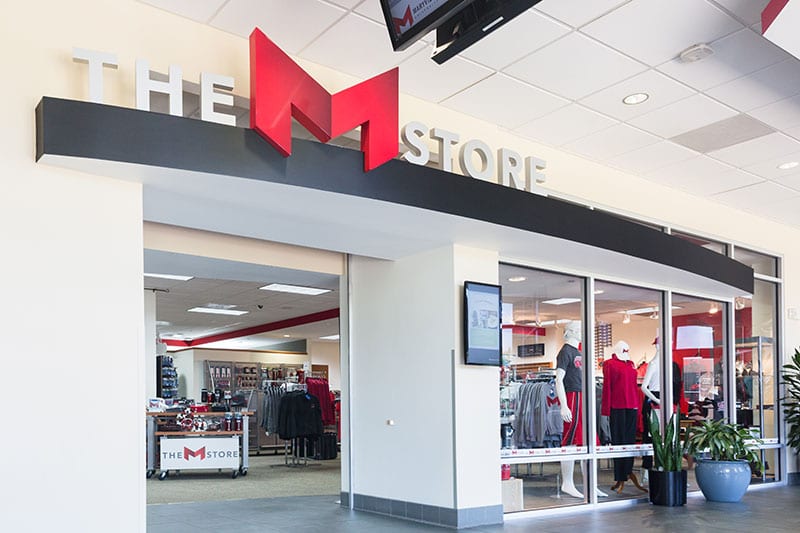 Louie's Market: Students may use their Dining Dollars for Fresh & Go and other convenience items in the Maryville University M-Store at Louie's Market. We offer a variety of Fresh & Go items from sandwiches and wraps to salads and healthy snacks. For more information, including hours of operation, visit The M Store website.
Special Dietary Accommodations for Campus Meals–Dining Services is committed to providing quality meals for a variety of tastes and dietary needs. However, if our menu does not accommodate your student's dietary needs, you can contact Stephanie Lautner at 870-275-3014, or please see the Food Service Director/Chef to set up a meeting to discuss menu options. Call 314-529-9308 for more information.
Back to Top
Registering and Receiving Academic Accommodations
Maryville University is committed to providing equal educational access for all of its students by ensuring that students with disabilities receive reasonable accommodations that support effective participation in all aspects of the educational experience. Check out the videos and resources below to learn more about Disability Support and how students can request and receive accommodations.
Accommodations at Maryville University
If your student has a documented disability and/or medical condition and is needing academic accommodations, please contact the Director of Disability Support and Success by completing the Accommodations Inquiry Form.
Once the form has been submitted, the Director of Disability Support and Success will review the form and the provided documentation.  Documentation can be uploaded to the form located above or faxed to (314)529-9174. 
Guidelines for Medical Document Diagnosis or DSM codes are clearly stated
1. Current impact of the disability on the student's academic performance
2. Recommended accommodations with justification for each accommodation
3. Recent (dated within the past year)
4. Evaluators professional credentials are present
Please Note: Submitting the Accommodations Inquiry Form and providing documentation is the first step in the process to receive accommodations and does not automatically provide your student with accommodations.
Accommodation Timeline
The Director of Disability Support and Success will connect with each student individually to discuss accommodations. Once documentation is received, it may take up to one week to review and provide university accommodations.
Please note: It is important to note that accommodations are not retroactive and will not impact past assignments or tests. Accommodations are only in effect after a student's Letter of Accommodation is shared with their faculty.
Want to Learn More?
Disability Services Website
Back to Top
Digital World & the Maryville iPad
All traditional, full-time undergraduate students receive an iPad, free of charge
Health & Wellness
The Health & Wellness Center is here to help students maintain optimal health through treatment of acute health conditions, management of chronic health conditions and participation in activities that promote life-long wellness.
All new students, residential and commuter, have health requirements that must be completed prior to the start of school. All documentation will be submitted through the health portal. Students will need their Maryville username and password to access the health portal.
So, what is possible on the Health Portal?
Before your student arrives on campus…

• Complete the Tuberculosis Screening Questionnaire (REQUIRED if your student is attending class on campus)
• Upload student Immunization Records (REQUIRED if you are living on campus)
○ Immunization records can be uploaded through the Health Portal under the Upload button. Immunization records must be uploaded by August 1, 2020.

Schedule or cancel an appointment with the nurse practitioner
Send a secure message to the nurse practitioner, requesting health information or referrals
Access individualized health education modules for learning.
Back to Top
Safety on Campus, Saints Alert, and Parking
Public Safety
Maryville's Public Safety department is committed to providing effective, efficient and consistent service to every member of this community, with respect, loyalty and integrity. You'll find information on this site that can help you prepare for an emergency on campus, give you tools to assist with your personal safety, as well as other general information about Public Safety and our programs and services.
Saints Alert System
Our campus notification system, Saints Alert, is designed to enhance and improve communication so that all members of the Maryville campus can stay informed in the event of an emergency. This system adds another immediate mechanism to the existing emergency safety procedures and campus safety programs. Students are automatically enrolled into our Saints Alert system. However, students can login to their My Saints Alert Account to confirm their contact information and add additional numbers to their account, including parents and family members.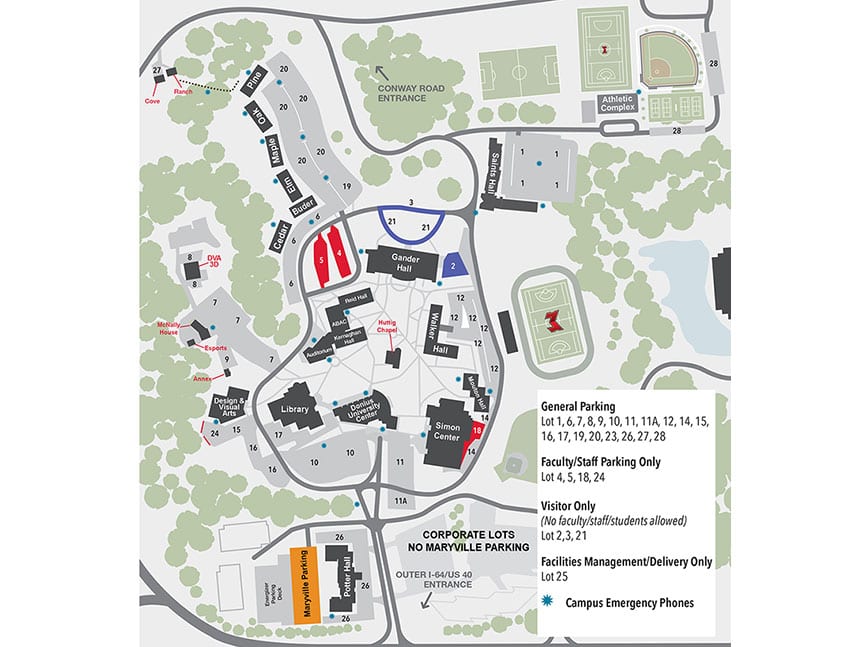 Parking & Vehicle Registration
Parking on campus is free for all students. However, displaying a parking permit is required. Students will need to register their vehicle prior to arriving on campus. We will mail the permits to students in August. Download our campus parking map.
Back to Top
Division of Student Life
In the Division of Student Life, we believe that each of our students is unique, coming to us with a wonderful mixture of identifies and backgrounds that make us a stronger community. Student Life includes many offices that work together to promote student learning and growth.
Students arrive at Maryville with different definitions of success – personal success, academic success, and career success – and on the journey towards success students encounter a variety of obstacles. The entire student life team, along with other partners across the University, are here to help students navigate those obstacles, identify new opportunities, and prepare for the future.
Student Involvement & Engagement
Creating an active living and learning environment means providing amble opportunities to get involved and to engage with other members of the community. Maryville offers a wide range of activities from athletics to educational clubs that increase cultural awareness. We hope that all of our students will take advantage of these opportunities and use their college journey to develop leadership skills.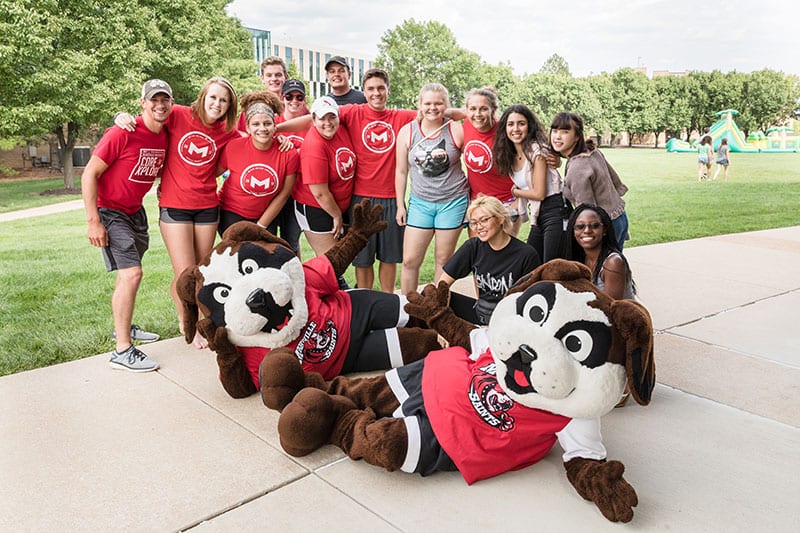 You can see the possibilities for your student's journey by exploring the following offices
• Student Involvement
• Athletics, Recreation, & Intramurals
• Diversity & Inclusion
• Service & Spiritual Life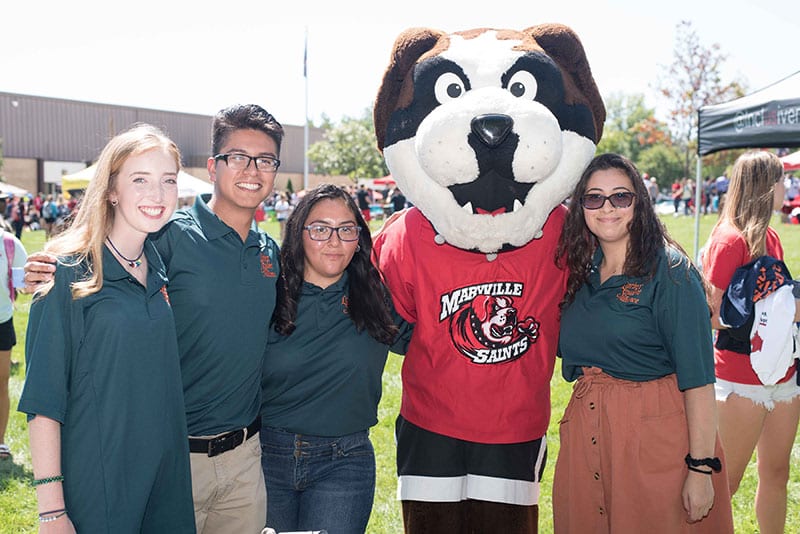 Student Support
Maryville is committed to creating a safe learning environment where all students have equal access to services and resources. Every student has a support team consisting of professional staff who can assist students navigate concerns that might arise. Maintaining a healthy lifestyle and practicing ethical decision-making is a great combination towards achieving success.
• Public Safety
• Title IX
• Health and Wellness
• Counseling Center