One Year Later: 'Maryville Reaches Out' Work Continues
---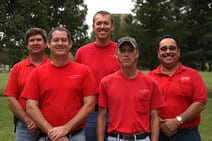 8/19/09
A maintenance and repair crew from Maryville University is helping to breathe new life into old systems at St. Cecilia church and school in south St. Louis. To Father William Vatterott, pastor, the Maryville volunteers are answers to a host of parish prayers.
Scott Kapper, technical maintenance supervisor at Maryville, first recruited a handful of coworkers to volunteer at St. Cecilia during the University's inaugural Maryville Reaches Out event last fall, a day when academic and work schedules were set aside by 900 students, faculty, staff and alumni who contributed services to nearly 75 non-profit agencies throughout the St. Louis region. This year, Maryville Reaches Out day will be held Tuesday, Sept. 15.
"St. Cecilia is the personal parish for the Spanish speakers of the archdiocese," said Fr. Vatterott. "Eighty percent of the students are Hispanic and 85 percent are below the poverty line." The parish, located at 5418 Louisiana, was organized in 1906. Featuring Romanesque design, the church is known architecturally for its interior mosaics, stained glass windows and twin, uneven steeples.
Since his first visit, which also involved other University employees and students, Kapper has returned to the parish many times. He often works side-by-side with part of the original Maryville team, including Gene McFerron, painter; Ernie Aveytia, senior custodial supervisor; and Bob Kaiser, Carl Ingenbohs and Andrew Bullar, all maintenance technicians. Bringing their own tools and sometimes mining personal vendor contacts for materials and supplies, the team continues to share their expertise in support of the parish.
"Scott and the crew are on my personal short list for canonization," Fr. Vatterott said. "They helped us last fall on the service day by, among other things, upgrading our electrical wiring for the new youth room. There was a jump in gang activity in the area and we needed a place for the kids to 'hang out' – that required video games, stereos, air conditioners and space heaters."
"The game room is a former nun's residence," Kapper said. "We cleaned it out, then installed two air conditioners." They also crawled through 500-foot tunnels under the sanctuary to troubleshoot pipe chases for the HVAC system, he said.
Several of the men have personal connections to St. Cecilia Parish. Kaiser's mother attended the grade school and the church. Ingenbohs occasionally attended the church as a child. It's located near several of their current neighborhoods. But it's not about any of that, really; instead, it's about the opportunity to help, the camaraderie among them and the chance to develop new skills, said the volunteers.
Kapper, who has taken his teenage daughter and son with him on occasion, said he has probably volunteered at the parish at least 20 times. Like his companions, he appreciates the opportunity to do something productive.
"It's a 10-hour day," Aveytia said, "We get there early and stay until evening, but it goes by real quick because you're doing something different, something you wouldn't normally do. We pick up odds and ends from each other's trades and get some extra knowledge. We get to enjoy ourselves – there's no pressure."
"For those of us who aren't as experienced, it's an opportunity to learn things there that we haven't done at Maryville," Bullar said.
"I figure we've saved the church a lot of money," Ingenbohs said. "We've replaced 18 valves on the heater and that's just one floor … we've got two more floors to go."
The return visits began after Maryville Reaches Out day, sometime last December, when Kapper received a phone call from Fr. Vatterott.
"The school principal called to tell me that the heating system was not working. We could only get the heat to 61 degrees in the kindergarten," Fr. Vatterott recalled. "The bid that we received was over $5,000 for work. Knowing that would stretch our means, I called Scott. He and the crew graciously overhauled the system, keeping us from having to cancel school.
In May, we learned that our air conditioner was not working due to a corroded valve, dating from 1926," Fr. Vatterott continued. "Scott and the crew replaced it for us. This pleased the parishioners and the many, many couples who are married at St. Cecilia. Without Scott and the crew, St. Cecilia parish and school would be a different place. They have kept kids warm in the winter and our brides cool on their wedding days."
During the upcoming Maryville Reaches Out day, Kapper and his Maryville crew plan to return to St. Cecilia.
"The church has been run down and has had no money for repairs. Now, they're starting to get money for materials that we can install. We're looking forward to doing that," Kapper said. "And if anyone else is interested in working with us on Maryville Reaches Out day, they could use another 20 volunteers."