Olaide Sangoseni, DPT, PhD
---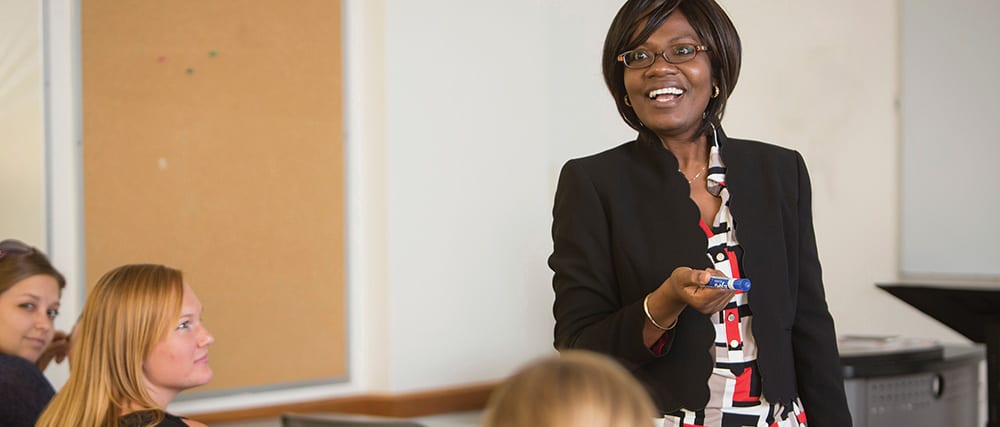 Olaide Sangoseni, DPT, PhD, assistant professor of physical therapy, grew up in both England and Nigeria, and has also lived, studied, or worked in Louisiana, Arkansas, New York, New Jersey, Florida, Iowa, and Missouri. She speaks several languages and has four degrees. Sangoseni, who teaches courses ranging from ethics, genetics and practice management to exercise physiology and cultural diversity, strives to ensure her students develop cultural competence and gain a global perspective.
Physical therapy, she says, deals with healing, relieving pain, addressing wellness, and promoting health. "It's about movement. We diagnose and treat problems, but we also see patients who don't have a problem—we want to prevent problems," Sangoseni says. "We want you to keep moving. If you lost movement, we want you to regain it; if you haven't lost it, we want you to maintain it."
The global aspect of physical therapy treatment is extremely important today, Sangoseni says. "We are a nation of immigrants. Most of us want to treat the patient and move on. That's the traditional sense. But the profession is changing—the whole healthcare world is changing—and it's about time. Patients are human beings, they have complexities, they have families, and their lives are not just back pain or knee pain. I tell students: sometimes we look the same, but we are not the same because the environment, society, gender, culture, even the food we eat influences how we are."
The ethical questions and global perspectives discussed in Sangoseni's classes are challenging, and often require personal reflection and response. Students aren't shy about speaking up, however, because they feel safe sharing their thoughts, says Jodi James, a fifth-year student in the DPT program.
"I always looked forward to going to Dr. Sangoseni's class because I knew that it wasn't going to be just another lecture," says James. "Dr. Sangoseni really enjoys interacting with her students and making them feel comfortable. I felt like I could be myself and ask anything, no matter how 'dumb' I thought the question might be."
Sangoseni makes a point not to share her own opinion in class. "I want students to share with each other because we need to start having civil discourse, and this is our practice point. That way, when students become health care professionals and patients say something uncomfortable, they will respond with empathy."
James studied abroad in Oxford, England, this summer. Cultural Competence in Healthcare, a course taught by Sangoseni, was part of her program. "Dr. Sangoseni taught me how to treat a patient as a whole and to never underestimate the influence of a person's culture on their goals and openness to therapy," James says. "I also learned how to appreciate another person's culture and to put myself in their shoes."
"I hope my students will give more than they think they can," Sangoseni says. "It's not about literacy anymore when you graduate, it's about doing good for those you can directly influence. Don't be a caboose; have several cars behind you that you're pulling along."