New Doctoral Program in Higher Education Begins Fall 2011
---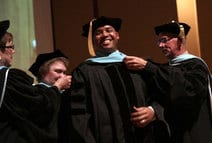 Beginning in the Fall 2011 semester, Maryville University's School of Education will offer its second doctoral concentration—the Doctor of Education in Higher Education Leadership program. The program is created for working professionals who desire to build their skills in college and university leadership, administration and teaching.
Applications for the degree program are currently being accepted from practicing professionals. Apply online at maryville.edu.
The Higher Education concentration will use the highly successful and unique Maryville EdD model which, unlike self-directed study options, provides students the personal mentoring and peer support necessary to complete the program. In fact, 90 percent of the EdD students in the last six  cohorts have successfully finished in two and one-half years.
Three factors make this possible:
•     The program is delivered in a cohort of 15 to 22 students who advance through classes together (separate from the other concentration students), forming a supportive academic and professional network.
•    The capstone research project is begun in the first semester and completed in the seventh semester, supported within the courses taken each semester.
•    Finally, courses provide customized instruction focused on the needs and goals of practicing professionals and accompanied by close student-advisor relationships.
Maryville's Doctor of Education program, which currently offers a concentration in educational leadership, has become a highly-valued stamp of excellence across the St. Louis region.
"Our EdD program has succeeded beyond our expectations as students have spread the word to their peers," said Sam Hausfather, PhD, dean of Maryville's School of Education. "We have clearly made an impact on school leadership in the St. Louis region. I look forward to making a similar impact in higher education with this new concentration."
The higher education concentration is designed to produce leaders who have a deep understanding of higher education, who are change agents capable of initiating and sustaining positive change, and who are reflective learners with skills to gather information in a democratic environment.
For more information, contact Holly Stanwich, graduate admissions coordinator: 314.529.9542; . Interested individuals may also visit Maryville University graduate education programs online.
About Maryville University
Founded in 1872, Maryville University is a four-year, private university located in west St. Louis County. Ranked by U.S. News & World Report as one of America's Best Colleges in the Regional Universities – Midwest category, Maryville University students may choose from 50 academic programs, including degrees at the bachelor's, master's and doctoral levels. Among recent graduates, 82 percent are employed or attending graduate school. More than 16,000 Maryville alumni work and live in the St. Louis region.