Mya Vaughn, PhD
---
Making the Case for Counseling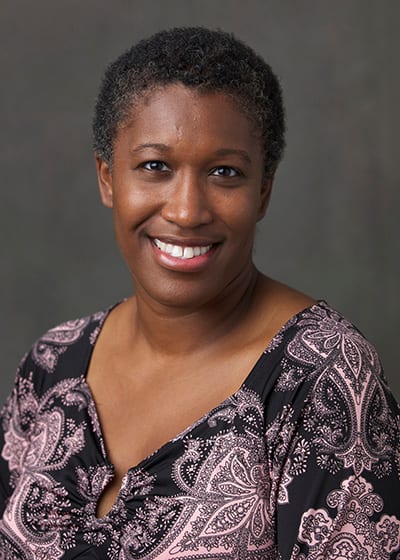 Being a rehabilitation counselor involves more than providing therapy to clients. It also requires a lot of documentation. Students learn this part of the job during a semester-long course focused on collecting data, taking notes and creating a treatment plan. It's not glamorous, but case management is an important part of the program.
When Mya Vaughn, PhD, assistant professor of rehabilitation counseling, studied case management, it was "horrifically boring," she says. Determined to bring the dull subject matter to life for her students, Vaughn uses case studies and role-play in her classroom. She also incorporates real-world experiences from her work as a counselor in private practice.
At the beginning of the 15-week course, students receive fictional case studies. They build files on their clients throughout the semester, gaining detailed knowledge about the various stages of paperwork required. By the end of the class, students have created complete rehabilitation plans.
"We build in a lot of cultural information and we always give the case study person a diagnosis and a problem," Vaughn says. "Students are taught to turn those problems into goal statements, and then talk about how they are going to help a client progress through that."
Next year, Vaughn's paperwork class will get a technology upgrade. With the use of iPads for note taking and treatment research, students will become familiar with data entry documentation.
"A lot of the agencies we work with are moving to software programs," Vaughn says.
The overall goal of the hands-on course is to help students feel more comfortable working with clients after graduation. Case management students, who are typically juniors and seniors, often work with developmentally disabled children and adults, or people dealing with addiction issues, she says.
Heather Page, a senior rehabilitation services student, has taken several classes with Vaughn. Page is excited about her role as a substance abuse counselor after graduation this May, and feels prepared to meet the challenges.
"In her classes, when we encounter a problem, we discuss it as a class and work it out together," Page says. "This has helped us when it comes to our practicum and internships. I learned how to accurately apply what we learn in class."
(First published in the Spring 2015 edition of Maryville Magazine.)