The Maryville University Department of Athletics and Recreation has launched SupportMaryvilleSaints.com, a website designed to facilitate support for Saints Club programs.
"The new website is designed for alumni who want to give back to their athletic programs, and for family, friends and other supporters," says Mycah Faulkner, assistant athletics director for external relations. "We want our Saints Nation family to understand the positive difference they make in the lives of Maryville student-athletes."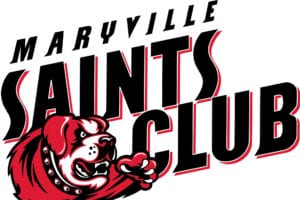 The site contains links to all upcoming Saints Club events, as well as ways to donate online to support student-athletes, athletic programs and the Department of Athletics and Recreation generally. Members will learn about levels and benefits, and all donors will be listed on a Donor Wall. Fans and alumni can also sign up to receive news in athletics, Esports or Club Sports.
"Maryville University Athletics and Recreation is growing, from new facilities to the addition of new and exciting sports programs," Faulkner says. "This site is a reminder that Maryville is headed in the right direction, and we want our supporters to share in the excitement."
For news about NCAA athletic teams, visit MaryvilleSaints.com. For club sports, visit PlayMaryville.com.