Music at Maryville: Wu Han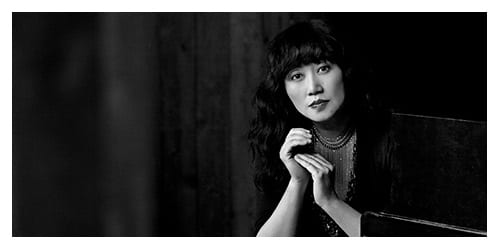 Pianist Wu Han ranks among the most esteemed and influential classical musicians in the world today. Leading an unusually multifaceted artistic career, she has risen to international prominence through her wide-ranging activities as a concert performer, recording artist, educator, arts administrator, and cultural entrepreneur. Wu Han is a recipient of Musical America's Musician of the Year award, one of the highest honors granted by the music industry.
In high demand as a recitalist, concerto soloist, and chamber musician, Wu Han has appeared at many of the world's most prestigious concert series and venues across the United States and around the world. She is a frequent collaborator with many of today's finest musicians and ensembles. Wu Han appears extensively each season as duo pianist with cellist David Finckel, and in piano trios with Philip Setzer. Highlights of her 2016-17 season include international and domestic tours and collaborations with a stellar lineup of artists and ensembles. This year she celebrates a ground-breaking Live from Lincoln Center broadcast; reunites with violinist Daniel Hope and violist Paul Neubauer for a series of nine concerts in Europe; makes long-awaited recital debuts in St. Petersburg and Hong Kong; returns to Seoul, South Korea, for the sixth annual Chamber Music Today festival; leads a special patrons' tour to St. Petersburg, Russia; continues the important work of the Chamber Music Society of Lincoln Center (CMS), and launches Music@Menlo's 15 anniversary season.
In addition to her distinction as one of classical music's most accomplished performers, Wu Han has established a reputation for her dynamic and innovative approach to the recording studio. In 1997, Wu Han and David Finckel launched ArtistLed, classical music's first musician-directed and Internet-based recording company, whose catalogue of nineteen albums has won widespread critical acclaim. The duo's recording for the ArtistLed label of the Rachmaninov, Shostakovich, and Prokofiev sonatas for cello and piano received BBC Music magazine's coveted "Editor's Choice" award. The most recent addition to the artist-led catalogue, Wu Han LIVE II, was released in December 2016 in collaboration with the Music@Menlo LIVE label and features Wu Han performing chamber works of Taneyev and Dohnányi.
Now in their third term as Co-Artistic Directors of The Chamber Music Society of Lincoln Center, Wu Han and David Finckel hold the longest tenure since Charles Wadsworth, the founding Artistic Director. They are the founding Artistic Directors of Music@Menlo, a chamber music festival and institute in Silicon Valley that has garnered international acclaim, soon to celebrate its fifteenth season. Wu Han also serves as Co-Artistic Director of Chamber Music Today, an annual festival held in Seoul, Korea. The festival is at the forefront of expanding the presence of chamber music in the Far East.
Wu Han has achieved universal renown for her passionate commitment to nurturing the careers of countless young artists through a wide array of education initiatives. For many years, she taught alongside the late Isaac Stern at Carnegie Hall and the Jerusalem Music Center. In 2013, she established a chamber music studio at Aspen Music Festival. Under the auspices of the Chamber Music Society of Lincoln Center, Wu Han launched the new Chamber Music Encounters program in New York and co-directs the LG Chamber Music School, which serves dozens of young musicians in Korea annually.
For more information, please visit davidfinckelandwuhan.com.
Admission
Adults: $10
Seniors: $5
Students: Free
Related Events