Information on University Events
Out of an abundance of caution, and in an effort to limit exposure to COVID-19 by Maryville community members and event attendees, all on-campus and off-campus university-sponsored events through May 16, 2020, have been cancelled, moved to a virtual format, or postponed until further notice.
These include:
March 31: Scholarship Dinner (Cancelled)
May 16: Spirit of Maryville (Postponed – Date TBD)
All Student Organization events through May 16 (Cancelled)
Spring Concert will be rescheduled for next year (Postponed – Date TBD)
If an event is shifted to a virtual format, you will be contacted by your event organizer. For the most recent information regarding university-sponsored events please visit our event status page.
 
Music at Maryville: Lyrical Odyssey
November 5, 2017 @ 3:00 pm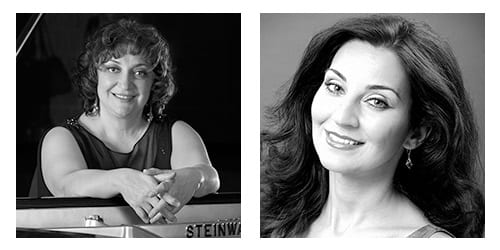 A native of Arizona, soprano Stella Markou is versed in the realm of oratorio, opera and recital work. She has been a featured guest artist with the Edinburgh Contemporary Musical Ensemble, Union Avenue Opera, Masterworks Chorale, Dance New Amsterdam Company, University of Nevada Las Vegas Concert Series, Ambassadors of Harmony, Arianna String Quartet, and Nashville Ballet. Her stage performances include Off-Broadway as well as roles performed from Pique Dame, Die Zauberflote, The Turn of the Screw, The Mikado, The Telephone, The Songstress and L'Histoire du soldat. She has been featured on numerous masterwork chorales that include Orff's Carmina Burana, Fauré's Requiem, Haydn's Lord Nelson's Mass, Brahms' Requiem, Handel's Messiah, Poulenc's Gloria, Mozart's Requiem, Rutter's Gloria, and Bach's Jauchzet Got in allen Landen.
Recent performances have included concerts at the Mythodia Conservatory in Paros and a special guest artist appearance at the opening of the International Maria Callas exhibit on behalf of the Helenic Parliament Foundation and the Consulate General of Greece. A passionate performer of contemporary music, her festival work includes the Edinburgh Fringe Festival, Heidelberg New Music Festival and SEAMUS. Her work can be found on the SEAMUS and MSR record labels.
Dr. Markou is sought out as a master teacher, adjudicator and speaker. She received a Bachelor of Music from the Oberlin Conservatory of Music, a Master of Music from the Cleveland Institute of Music, and a Doctorate of Musical Arts from The University of Arizona. She is an Associate Professor of Music, and since 2007 has been serving as the Director of Vocal Studies and Opera Theatre at the University of Missouri-St. Louis. For more information kindly visit stellamarkou.com.
Alla Voskoboynikova has held the position of Director of Keyboard Studies at the University of Missouri-St. Louis since 2004. She extensively performs and collaborates with local musicians and regularly accompanies and coaches for the Union Avenue Opera Company as well as Webster University in St. Louis. Before moving to the United States in 1996, Alla Voskoboynikova was a pianist and vocal coach at the Kiev Opera and Ballet Theater in Ukraine.
She received her Bachelors Degree in Piano Performance from the Music College in Voronezh, Russia and her Master's Degree in Piano Performance from the Gnessins Academy of Music in Moscow, Russia. Alla was an accompanist in the Tchaikovsky Competition in 1996 and has performed numerous solo recitals along with chamber music in several European countries. Since moving to the United States, Alla has collaborated with several members of the St. Louis Symphony Orchestra, performing chamber music. In 1998, she performed at Carnegie Recital Hall with flautist Brenda Hagni and in 2002, Alla performed Rachmaninov's second concerto with the Webster University Symphony Orchestra.
As a member of a duo, Alla performed John Adams' Halleluiah Junction with pianist Orli Shaham in 2008. In the past several years, Alla has organized a series of thematic chamber music recitals, including a commemoration of Dmitri Shostakovich's 100-year anniversary, a commemoration of Felix Mendelssohn's 200-year anniversary, and a piano and winds recital, among others.
Admission
Adults: $10
Seniors: $5
Students: Free