Information on University Events
Consistent with St. Louis County guidelines, Maryville is no longer limiting capacity at gatherings, meetings and events. To permit appropriate cleaning and set-up, all gatherings, meetings, and events must be requested and approved in advance. Spontaneous events will not be permitted. Visit our FAQ page for more information.
Music at Maryville: Arianna String Quartet
November 10, 2019 @ 3:00 pm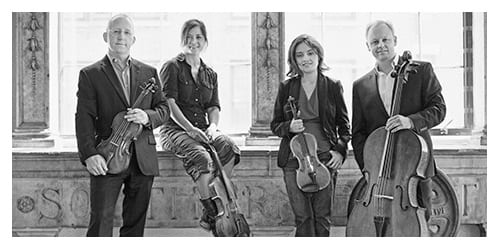 Members of the Arianna String Quartet: John McGrosso, violin; Joanna Mendoza, viola; Kurt Baldwin, cello; with Peter Henderson, piano; will perform three works: Wolfgang Amadeus Mozart's masterpiece for string trio, his great six-movement Divertimento, K. 563; Gideon Klein's searing string trio — his final composition, completed shortly before he was sent to Auschwitz; and Brahms's fiery G-minor Quartet for Piano, Violin, Viola, and Cello, featuring an exhilarating, "gypsy rondo" finale.
* Wolfgang Amadeus Mozart (1756-1791): Divertimento for Violin, Viola, and Cello in E-flat major, K. 563 (1788)
* Gideon Klein (1919-1945): Trio for Violin, Viola, and Cello (1944)
* Johannes Brahms (1833-1897): Quartet No. 1 for Piano, Violin, Viola, and Cello in G minor, op. 25 (1856-1861)
The Arianna String Quartet, hailed for their outstanding musicianship, has firmly established itself as one of America's finest chamber ensembles. Formed in 1992, they garnered national attention by winning the Grand Prize in the 1994 Fischoff Chamber Music Competition, and First Prize in both the Coleman and Carmel Chamber Music Competitions. They were also Laureates in the 1999 Bordeaux International String Quartet Competition.
The Arianna String Quartet has appeared throughout North America, Europe and Asia, including critically acclaimed debuts at Orchestra Hall in Chicago and Tokyo's Suntory Hall, and have been heard on live nationally broadcast performances in Osaka, Japan, on Canada's CBC radio, several times as part of Chicago's prestigious Dame Myra Hess Series, and on National Public Radio's "Performance Today" program. Highlights for 2011 include concert tours in Brazil, South Africa and Canada.
The Arianna String Quartet has recorded for Albany Records and Urtext Digital Classics, and recently signed a long-term contract with Centaur Records for recordings of the complete quartets of Beethoven, Bartók, Janácek and the Mozart "Haydn" Quartets.
Admission
Adults: $10
Seniors: $5
Students: Free