Information on University Events
Out of an abundance of caution, and in an effort to limit exposure to COVID-19 by Maryville community members and event attendees, all on-campus and off-campus university-sponsored events through May 16, 2020, have been cancelled, moved to a virtual format, or postponed until further notice.
These include:
March 31: Scholarship Dinner (Cancelled)
May 16: Spirit of Maryville (Postponed – Date TBD)
All Student Organization events through May 16 (Cancelled)
Spring Concert will be rescheduled for next year (Postponed – Date TBD)
If an event is shifted to a virtual format, you will be contacted by your event organizer. For the most recent information regarding university-sponsored events please visit our event status page.
 
Maryville Talks Movies: The Last Wave
September 6, 2018 @ 6:15 pm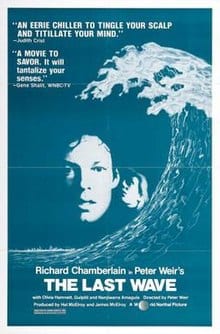 Maryville Talks Movies brings together students and the St. Louis community to watch and discuss significant films in a variety of genres. This week's film will be The Last Wave, which was released in 1977. Associate Professor Johannes Wich-Schwarz will introduce the movie and then, after the viewing, lead a presentation and/or Q&A session.
Welcome to Dreamtime! In this early movie, Australian director Peter Weir—who went on to direct box office successes such as Dead Poets Society and The Truman Show—weaves together elements of Australian aboriginal mythology (such as "Dreamtime," a term which encompasses ancient aboriginal belief systems), environmental concerns, and philosophical reflections on the limits of human knowledge. The movie depicts the journey of a lawyer (defending aborigines in a murder trial) from pure rationality to an openness towards a mystical worldview. At the same time, The Last Wave demonstrates possibilities of how art can move beyond entertainment towards a transformative experience for the audience."