Information on University Events
Out of an abundance of caution, and in an effort to limit exposure to COVID-19 by Maryville community members and event attendees, all on-campus and off-campus university-sponsored events through May 16, 2020, have been cancelled, moved to a virtual format, or postponed until further notice.
These include:
March 31: Scholarship Dinner (Cancelled)
May 16: Spirit of Maryville (Postponed – Date TBD)
All Student Organization events through May 16 (Cancelled)
Spring Concert will be rescheduled for next year (Postponed – Date TBD)
If an event is shifted to a virtual format, you will be contacted by your event organizer. For the most recent information regarding university-sponsored events please visit our event status page.
 
Maryville Talks Movies – Rope
October 19, 2017 @ 6:15 pm
Free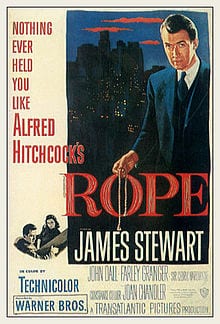 Maryville Talks Movies brings together students and the St. Louis community to watch and discuss significant films in a variety of genres. This week's film will be Rope, which was released in 1948. Dr. Jess Bowers will introduce the movie and then, after the viewing, lead a presentation and/or Q&A session.
Based on the play Rope by Patrick Hamilton, which was inspired by the 1924 murder of a fourteen-year-old by two University of Chicago students who wanted to prove they could commit a murder and get away with it, Alfred Hitchcock's taut psychological thriller takes place in real-time over the course of an 80-minute dinner party—with a murder victim's body hidden under the buffet table. Starring James Stewart, John Dall, and Farley Granger.
Although this is a for-credit course, the public is invited to attend the movie screenings and accompanying discussions.