Information on University Events
Out of an abundance of caution, and in an effort to limit exposure to COVID-19 by Maryville community members and event attendees, all on-campus and off-campus university-sponsored events through May 16, 2020, have been cancelled, moved to a virtual format, or postponed until further notice.
These include:
March 31: Scholarship Dinner (Cancelled)
May 16: Spirit of Maryville (Postponed – Date TBD)
All Student Organization events through May 16 (Cancelled)
Spring Concert will be rescheduled for next year (Postponed – Date TBD)
If an event is shifted to a virtual format, you will be contacted by your event organizer. For the most recent information regarding university-sponsored events please visit our event status page.
 
Maryville Talks Movies: No Country for Old Men
November 8, 2018 @ 6:15 pm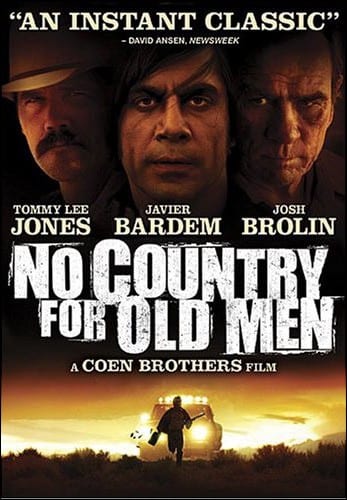 Maryville Talks Movies brings together students and the St. Louis community to watch and discuss significant films in a variety of genres. This week's film will be No Country for Old Men, which was released in 2007. Professor Jesse Kavadlo will introduce the movie and then, after the viewing, lead a presentation and/or Q&A session.
No Country for Old Men (2007), based on the novel by Cormac McCarthy, directed by Joel and Ethan Coen, is an unsettling and complex film. While it was nominated for eight Academy Awards and won four, in many ways its plot, characterization, genre, and meaning remain ambiguous and subject to debate and discussion. What are viewers to make of the characters: in some ways, familiar (a sheriff and a killer), while in other ways unlike similar representations of these types? What of the storyline, similarly familiar—a drug deal gone wrong—but that becomes less and less conventional as the movie goes on? What kind of movie is it—thriller, Western, crime story?—and why does that matter? And, most importantly, is the film didactic? And if it is, what is its lesson, and, again, why does it matter?