Maryville Talks Movies – Macbeth
November 3, 2016 @ 6:00 pm

-

10:00 pm

Free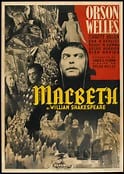 Maryville Talks Movies brings together students and the St. Louis community to watch and discuss significant films in a variety of genres. This week's film will be Macbeth, which was released in 1948. Art Santirojprapai, PhD, will introduce Macbeth and then, after the viewing, lead a 40-minute presentation or Q & A session.
Shakespeare's brooding tale of weird witches and bloody regicide has always sparked the imagination of readers and theatergoers. This is especially true with Orson Welles' 1948 film, Macbeth. Welles, who took artistic license with the narrative, brought his trademark style of theatrically conscious filmmaking: expressionistic set design that is both haunting and moody, coupled with meticulous camerawork and deeply stylized editing.
Although this is a for-credit course, the public is invited to attend the movie screenings and accompanying discussions.