Information on University Events
Out of an abundance of caution, and in an effort to limit exposure to COVID-19 by Maryville community members and event attendees, all on-campus and off-campus university-sponsored events through May 16, 2020, have been cancelled, moved to a virtual format, or postponed until further notice.
These include:
March 31: Scholarship Dinner (Cancelled)
May 16: Spirit of Maryville (Postponed – Date TBD)
All Student Organization events through May 16 (Cancelled)
Spring Concert will be rescheduled for next year (Postponed – Date TBD)
If an event is shifted to a virtual format, you will be contacted by your event organizer. For the most recent information regarding university-sponsored events please visit our event status page.
 
Maryville Talks Movies – Dr. Strangelove
November 2, 2017 @ 6:15 pm
Free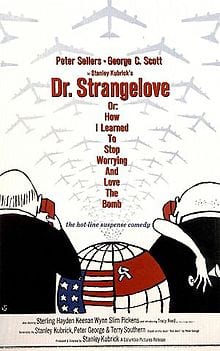 Maryville Talks Movies brings together students and the St. Louis community to watch and discuss significant films in a variety of genres. This week's film will be Dr. Strangelove or: How I Learned to Stop Worrying and Love the Bomb, which was released in 1964. Dr. Jesse Kavadlo will introduce the movie and then, after the viewing, lead a presentation and/or Q&A session.
Dr. Strangelove or: How I Learned to Stop Worrying and Love the Bomb: Famed director Stanley Kubrick's 1964 film imagines a series of events that leads a United States B-52 bomber hurtling toward a nuclear first strike on the Soviet Union—and the attempt to avert catastrophe. Yet amazingly, the film is a raucous dark comedy, satirizing the anxieties and paranoia of the Cold War and political doctrine known as mutually assured destruction. As a class, we will examine the ways in which the film uses different kinds of humor (irony, satire, parody, physical comedy, burlesque, and more), and splits the film into multiple narratives, to create suspense as audiences manage to laugh at, yet also perhaps learn from, the horrifying possibility of nuclear annihilation.
Although this is a for-credit course, the public is invited to attend the movie screenings and accompanying discussions.