Maryville Talks Movies: Clockwork Orange
November 1, 2018 @ 6:15 pm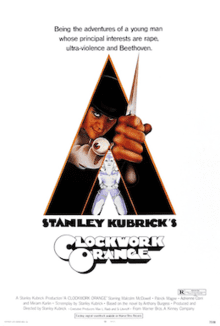 Maryville Talks Movies brings together students and the St. Louis community to watch and discuss significant films in a variety of genres. This week's film will be Clockwork Orange, which was released in 1971. Associate Professor Chammie Austin will introduce the movie and then, after the viewing, lead a presentation and/or Q&A session.
Stanley Kubrick's film, Clockwork Orange, was based on an Anthony Burgess novel entitled Nadset. The film was controversial when it was released and continues to be controversial because of its depiction of cruelty and violence. To underline the somewhat shocking nature of the film's content, much of its camera work is deliberately in-out, with few pans or much lateral/horizontal movement. Because of the copy-cat violence for which the film was blamed, Kubrick withdrew it from circulation in Britain about a year after its release.
Originally rated "X", A Clockwork Orange was nominated for Best Picture, Best Director, Best Film Editing and Best Screenplay, but was defeated in each category by William Friedkin's The French Connection (1971). It was one of only two movies rated "X" when it was originally released (the other was Midnight Cowboy which was nominated for a Best Picture Academy Award.
Related Events