Maryville Talks Movies – The Body Snatcher
October 26, 2017 @ 6:15 pm
Free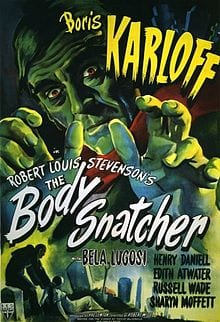 Maryville Talks Movies brings together students and the St. Louis community to watch and discuss significant films in a variety of genres. This week's film will be The Body Snatcher, which was released in 1945. Robert Wise will introduce the movie and then, after the viewing, lead a presentation and/or Q&A session.
This 1945 horror film, directed by Robert Wise, probably most noted for having directed The Sound of Music, and produced by Val Lewton is a film inspired by the infamous grave-robbers William Burke and William Hare who haunted cemeteries in Edinburgh in the early part of the19th century and robbed graves in order to supply doctors with bodies for anatomical and physiological study. It was a lucrative and sordid business which made the nefarious pair much money until they were caught. The two standout performances are from Bela Lugosi of Dracula fame and Boris Karloff who played the monster in Frankenstein which came out in 1936. 
Although this is a for-credit course, the public is invited to attend the movie screenings and accompanying discussions.
Related Events