Information on University Events
Out of an abundance of caution, and in an effort to limit exposure to COVID-19 by Maryville community members and event attendees, all on-campus and off-campus university-sponsored events through May 16, 2020, have been cancelled, moved to a virtual format, or postponed until further notice.
These include:
March 31: Scholarship Dinner (Cancelled)
May 16: Spirit of Maryville (Postponed – Date TBD)
All Student Organization events through May 16 (Cancelled)
Spring Concert will be rescheduled for next year (Postponed – Date TBD)
If an event is shifted to a virtual format, you will be contacted by your event organizer. For the most recent information regarding university-sponsored events please visit our event status page.
 
Maryville Talks Movies: Black Robe
October 11, 2018 @ 6:15 pm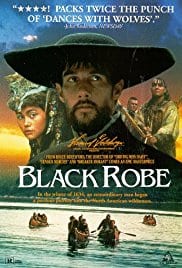 Maryville Talks Movies brings together students and the St. Louis community to watch and discuss significant films in a variety of genres. This week's film will be Black Robe, which was released in 1991. Professor John Wickersham will introduce the movie and then, after the viewing, lead a presentation and/or Q&A session.
Released in 1991, Black Robe is one of three great films concerned with the missionary efforts of the Jesuits, the other two being The Mission and The Silence. Notable in the film is the brilliant cinematography, with one long shot of a procession of canoes on the St. Lawrence River being especially memorable. In Black Robe, a young French Jesuit priest, Father LaForgue, is sent into the wilds of seventeenth century Canada to evangelize among the Huron Indians. He and his companions undergo several terrible ordeals before finally reaching Huron country. In the end, LaForgue's efforts among the Huron bear no fruit. He does win many Huron converts, but, we are told after the end of the film, the Huron were subsequently massacred by their Iroquois enemies. The film provides an accurate and historically driven contrast between and comparison of the world views of Christian Europeans and the indigenous people of Canada. What is certainly the case is that there is no triumphalism in the story, which is also true of The Mission and Silence.