Maryville Talks Movies – The Best Years of Our Lives
September 14, 2017 @ 6:15 pm
Free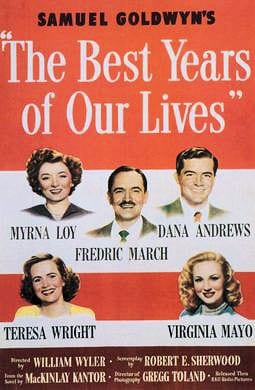 Maryville Talks Movies brings together students and the St. Louis community to watch and discuss significant films in a variety of genres. This week's film will be The Best Years of Our Lives, which was released in 1946. Dr. John Wickersham will introduce the movie and then, after the viewing, lead a presentation and/or Q&A session.
William Wyler's film, The Best Years of Our Lives, is considered his masterpiece. Never before had a filmmaker told the story of three men coming back from war and the psychological and emotional trauma of reintegrating themselves into the normalcy of civilian life. The great Betty Davis believed The Best Years of Our Lives to be one of the greatest movies every made because of its emotional range, its realism and its unrelenting look into the lives of three very different veterans from very different walks of life bound together by their war experience, and the trauma of that experience. In our own time,The Best Years of Our Lives, released in 1946, still retains its evocative power as a quintessential American movie.  The movie was directed by William Wyler based on a novella by McKinley Kantor. Robert Sherwood wrote the screenplay. Dana Andrews, Frederick March, and Myrna Loy lead a stellar cast. In addition to these seasoned Hollywood actors, the role of a sailor missing both his hands is played by an actual combat veteran.In 1946, the movie won seven Oscars, including Best Movie, Best Director, and Best Actor, among others. The final scenes, featuring the Dana Andrews character, are regarded as among the most moving in American cinematic history. To this day, 70 years after its release, The Best Years of Our Lives is still considered to be one of the great American films.   
Although this is a for-credit course, the public is invited to attend the movie screenings and accompanying discussions.
Related Events