Information on University Events
Out of an abundance of caution, and in an effort to limit exposure to COVID-19 by Maryville community members and event attendees, all on-campus and off-campus university-sponsored events through May 16, 2020, have been cancelled, moved to a virtual format, or postponed until further notice.
These include:
March 31: Scholarship Dinner (Cancelled)
May 16: Spirit of Maryville (Postponed – Date TBD)
All Student Organization events through May 16 (Cancelled)
Spring Concert will be rescheduled for next year (Postponed – Date TBD)
If an event is shifted to a virtual format, you will be contacted by your event organizer. For the most recent information regarding university-sponsored events please visit our event status page.
 
Maryville Talks Movies – American Beauty
October 12, 2017 @ 6:15 pm
Free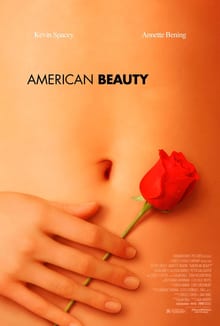 Maryville Talks Movies brings together students and the St. Louis community to watch and discuss significant films in a variety of genres. This week's film will be American Beauty, which was released in 1999. Dr. Bryan Bergstrom will introduce the movie and then, after the viewing, lead a presentation and/or Q&A session.
American Beauty is the directorial debut of Sam Mendes, with the screenplay being written by Alan Ball. The story is about a depressed upper middle class man and his family who do not find happiness living the ostensible American dream in white suburbia. The film garnered five Academy Awards and Kevin Spacey's depiction of Lester Burnham, a sexually frustrated middle aged man in the midst of a mid-life crisis, is one of his most memorable roles. The film is beautifully and memorably photographed by Conrad Hall.
Although this is a for-credit course, the public is invited to attend the movie screenings and accompanying discussions.