Maryville Talks Movies – Alien
November 9, 2017 @ 6:15 pm
Free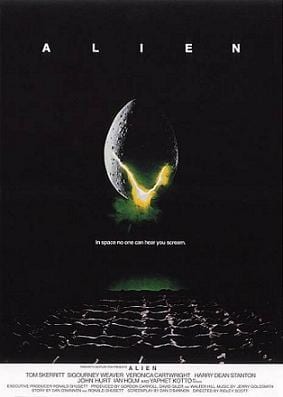 Maryville Talks Movies brings together students and the St. Louis community to watch and discuss significant films in a variety of genres. This week's film will be Alien, which was released in 1979. Dr. Art Santirojprapai and Eliza Prager will introduce the movie and then, after the viewing, lead a presentation and/or Q&A session.
The late 1960s and 1970s were a renaissance for science-fiction cinema. Such films as Kubrick's 2001: A Space Odyssey (1968) and Lucas' Star Wars (1975) ushered in a new era of visual effects-driven movies that capitalized on the excitement and promise of the idyllic, halcyon days of space exploration in the 50s and 60s. However, Ridley Scott's Alien (1979) contrasted sharply with this optimistic view of the future. A far darker film than its predecessors, Alien's blend of science fiction and horror was a critical and box-office success, earning accolades and awards for its ground-breaking visual effects and direction. Over 20 years later, the Library of Congress and the National Film Registry would recognize Alien for its cultural, historic, and aesthetic significance to cinema. Although the film's popular legacy may be bound to its iconic monster and in the many sequels that followed, what elevates Alien to another level of science fiction filmmaking is a dark vision of a dystopian future. Reflected in its suspenseful, terrifying story of ore refinery workers trapped with an alien menace is a collective anxiety of a technological progress.
Although this is a for-credit course, the public is invited to attend the movie screenings and accompanying discussions.
Related Events