Information on University Events
Out of an abundance of caution, and in an effort to limit exposure to COVID-19 by Maryville community members and event attendees, all on-campus and off-campus university-sponsored events through May 16, 2020, have been cancelled, moved to a virtual format, or postponed until further notice.
These include:
March 31: Scholarship Dinner (Cancelled)
May 16: Spirit of Maryville (Postponed – Date TBD)
All Student Organization events through May 16 (Cancelled)
Spring Concert will be rescheduled for next year (Postponed – Date TBD)
If an event is shifted to a virtual format, you will be contacted by your event organizer. For the most recent information regarding university-sponsored events please visit our event status page.
 
Jiangmei Wu: Expressions and Transformations in Paper Folding
October 5, 2017

-

October 21, 2017

Free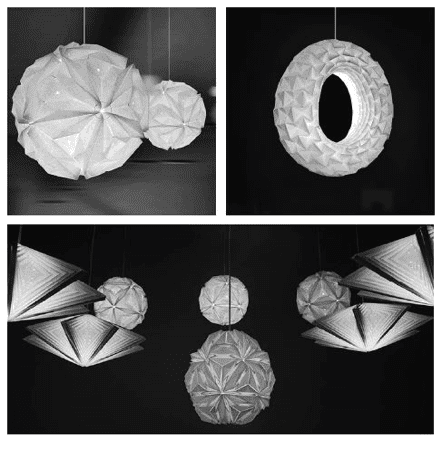 The creative works, produced by artist and designer Jiangmei Wu, are unique in their seamless integration of ancient, handcrafted methodologies with 21st-century digital design tools. Wu has spent her career understanding and perfecting the art form of origami, and utilizes algorithmic computational technology in the speculation of new and innovative origami folds. The result is a stunning portfolio of large-scale origami explorations that appear to weightlessly dance throughout exhibition spaces.

Reception is Oct. 19 (5:30 p.m. to 7:30 p.m.).
Jiangmei Wu is a tenure-track assistant professor at Indiana University in the United States. She creates interdisciplinary work in art, design, mathematics, science, and engineering and investigates the relationship between geometry, surface texture, computational algorithms, and making techniques in the art and science of paper folding. Her Folded Light Art brand, using eco-friendly materials and manufacturing techniques, has gained world-wide attention and has been published in many design magazines internationally, including Elle Decoration, WallPaper*, DesignBoom, MocoLoco, Inhabitat, Gizmodo, Espaces Contemporains, and many more. Her creative works have been juried and exhibited in big international cities such as New York, Detroit, Los Angeles, Bangkok, and Tokyo and have been awarded by American Mathematical Society, Niche Awards, Craft Forms, etc. Selected for a traveling exhibit called Above the Fold: New Expressions in Origami, one of her large installations was which began its tour in ten museums and art centers in the United States and Canada in January 2015. Most recently awarded, Wu received several grants from Indiana University and one collaborative grant from National Science Foundation for her work related to paper folding.