Men's Golf Team Named GCAA Academic National Champions
---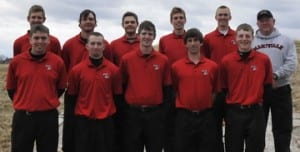 8/19/10
The Maryville University 2009-2010 men's golf team has been named the GCAA Academic National Champion for NCAA Division II, the Golf Coaches Association of America announced.
Team members include: Brad Howell of Troy, Mo.; Brandon Monzyk of Chesterfield, Mo.; Cory Scott of Hannibal, Mo.; Eric Shubert of Red Bud, Ill.; Jesse Weller of Ballwin, Mo.; Michael Fowler of Centralia, Ill.; Paul Greffet of St. Louis; Rob Maruska and Tom Whitaker of St. Charles, Mo.; and Sam Carlson of Lake Saint Louis, Mo.
A total of 113 teams from all divisions submitted GPAs of 3.0 or higher to earn All-Academic team recognition.
"We are honored to be recognized by the GCAA for our efforts in the classroom," said Glenn Paulus, head coach. "The team always strives for academic excellence and this award is a result of their desire to learn. It is a privilege to be associated with such young men."
This marks the first team academic award for the men's golf program while two individuals, Nick Profancik and Sam Carlson, have amassed three Academic All-American honors.
"Congratulations to Coach Paulus and the 2010 men's golf team for their efforts in the classroom," said Tony Duckworth, director of athletics. "This is an outstanding honor for the Maryville University men's golf program."
About Maryville University
Founded in 1872, Maryville University is a four-year, private university located in west St. Louis County. Ranked by U.S. News & World Report as one of America's Best Colleges in the Regional Universities – Midwest category, Maryville University students may choose from 50 academic programs, including degrees at the bachelor's, master's and doctoral levels. Among recent graduates, 82 percent are employed or attending graduate school. More than 16,000 Maryville alumni work and live in the St. Louis region.