Maryville University to Set Fall Enrollment Records
---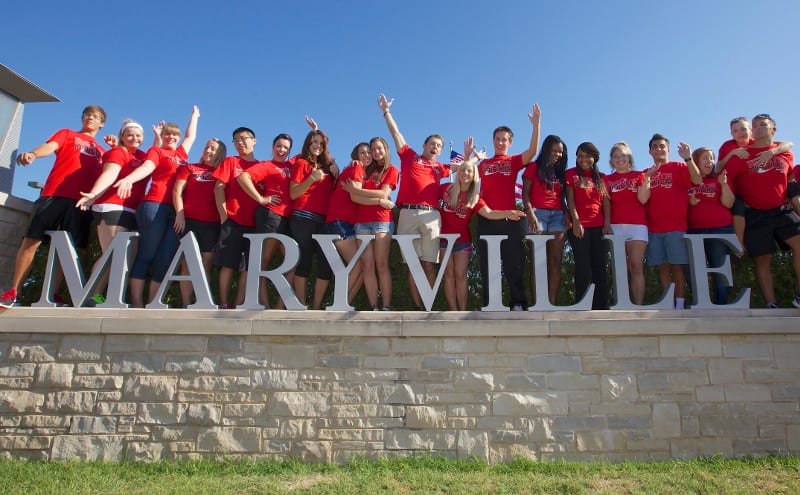 [St. Louis, Mo.]—Maryville University will set enrollment records this fall, including the highest overall enrollment in the school's history. Projections for growth come as many colleges and universities are experiencing declining enrollment.
Maryville University President Mark Lombardi, PhD, expects total enrollment to surpass 5,500—an 11 percent increase over last year and a 52 percent increase since 2007. This will mark Maryville University's 10th consecutive year of record enrollment, and the second year recording double-digit growth. The University is experiencing growth in every category and at every stage of the process, including more inquiries, applications, admissions, and more students participating in orientation.
"From 49 states and over 28 countries, the outstanding quality of a Maryville education has gone viral.  While we are proud of the number of students we are attracting we are most proud of our 89 percent retention, 68 percent graduation rate, and 94 percent career placement rate.  Students who come to Maryville learn, thrive, and ultimately succeed," says President Lombardi.
The 2014 freshman class is the largest in the University's history and represents a 5 percent increase over last year. All graduate and doctoral programs are expected to experience a 6 percent increase over 2013. Classes begin Aug. 25.
"Recent accolades helped contribute to this fall's record-setting numbers by raising awareness of Maryville University and its value," says Jeff Miller, vice president for enrollment.
Most recently, Maryville University was ranked in the top 15 percent of national universities for the return on investment (ROI) of its academic degrees by Educate to Career, a non-profit firm that analyzes the economic value of a college degree. As the highest-ranked university for ROI in the St Louis region, and one of only three in St. Louis ranked nationally, Maryville University helps its students develop marketable skills and find high-paying jobs in their fields of study.
For the second consecutive year, U.S. News & World Report named Maryville the No. 1 Overperforming University in the nation.
Maryville University student-athletes continue to make news proving their achievements extend beyond athletics into academics. In 2013-14, the NCAA Great Lakes Valley Conference (GLVC) awarded All-Academic honors to 164 Saints athletes. Ten Saints athletic squads earned the GLVC Team Academic All-GLVC Award, tied for the most in the league. Twenty-two student-athletes received the Council of Presidents' Academic Excellence awards, and for the second consecutive year, Maryville received the NCAA Division II Presidents' Award for Academic Excellence for graduating 93 percent of its student athletes. The national four-year average is 71 percent.
"Over the last seven years we've combined a strong educational product with an aggressive, strategic recruitment plan carefully targeted to recruit students from across the nation," says Miller. "The result is a steady, expanding university with national recognition for return on investment, best value, and overperformance, as well as high retention and graduation rates."
About Maryville University
As a private, independent university, Maryville enrolls more than 5,500 students and offers more than 75 degrees at the undergraduate, master's and doctoral levels. Maryville has forged its outstanding reputation based on academic outcomes, small classes, individualized student attention, and academic excellence.
Media Contact:
Marcia Sullivan, Vice President
Integrated Marketing and Communications
314.529.9340; Marcia.Sullivan@maryville.edu