Maryville University taps Peggy Musen to head Kids Rock Cancer outreach
---
9/24/12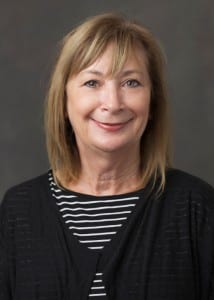 ST. LOUIS – Peggy L. Musen of Chesterfield, Mo., is the new program director of Kids Rock Cancer at Maryville University.
Tom Eschen, vice president of Institutional Advancement at Maryville, said Musen understands the power of music therapy and embraces the University's effort to expand its outreach to children fighting cancer. "Peggy's expertise and enthusiasm match Maryville's needs perfectly," he said. "She will provide strong leadership as Kids Rock Cancer continues to grow, and she will collaborate with our past director, Kristie Skor, who will continue to be involved in the organization."
Musen comes back to the St. Louis area from the University of Alabama where she served as a clinical research associate for recruitment and retention. For many years, she worked at Fontbonne University serving most recently as vice president for enrollment management.
"It's an honor to be named project director of Kids Rock Cancer," Musen said. "The impact that music can make on children as they undergo cancer treatment is amazing. Our goal is to reach children in a variety of settings and provide the gift of music to them."
Maryville established Kids Rock Cancer about three years ago as a service initiative for children in the St. Louis area who were diagnosed with cancer and other life-threatening diseases. Board-certified music therapy representatives at Maryville University help children at various hospitals and facilities in the St. Louis area create and record music that lets them work through various emotional challenges. More than 100 children have benefited from the program.
About Maryville University
Maryville University, founded in 1872, is ranked in the national universities category of U.S. News & World Report. It is one of three institutions in the Greater St. Louis Area ranked in this division. Kiplinger's Personal Finance ranks Maryville in the Top 100 Private Universities in the U.S. for Best Value.