Maryville University opens Newman Center
---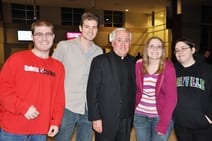 1/27/12
Maryville University has opened a Newman Center to better serve the spiritual needs of Catholic students. It's part of an overall effort on campus to minister to students of all faith traditions. The University also has eight different spiritual groups on campus, and various opportunities to link students to their faith communities.
A Newman Center office is located in Duchesne Hall on the University's main campus in west St. Louis County. Father Richard Heman has established an on-campus presence in recent days to celebrate liturgy, share his faith and guide retreats. "I'm looking forward to helping students along their spiritual journey," Heman says.
A St. Louis native, Father Heman was ordained through Kenrick Seminary in the St. Louis Archdiocese in 1967.  His first assignment was at Holy Innocents Parish in St. Louis.  He has served in several parishes and diocesan Catholic high schools. Having recently retired from full-time ministry, he still provides support at SSM St. Mary's Health Center and parishes throughout the diocese.
Father Heman loves teaching and learning. He has a Doctorate in American Studies from Saint Louis University. He looks forward to serving the Maryville community by ministering to the sacramental life of Catholic students, inviting them and all students to share, learn and talk about issues that impact them and their faith.  He also plans to bring speakers to campus to discuss topics such as medical-moral ethics and social outreach.
Father  Heman will preside at Sunday Masses at 7:30 p.m. in Huttig Chapel and on Holy Days within the regular school year when classes are in session. He'll also offer office hours at the Newman Center. The 19th century English theologian, John Henry Cardinal Newman, wanted Catholic college students to have a place to explore their religious heritage while enriching their spirits, hearts and minds. Inspired by Newman's writings, the first Newman Club in the United States was established in 1893.
Liza Rael, spouse of Maryville University's president, was instrumental in bringing the Newman Center to campus.  "As a student at Eastern New Mexico University in Portales, I found a Newman Center to be a place where my own faith life grew.  Because of my positive experience, I wanted Catholic students at Maryville University who choose to focus on their own spirituality to have the unique opportunities to enrich their faith that Newman Centers have long provided."
Roman Catholic St. Louis Archbishop Robert  J. Carlson, who provides spiritual leadership to more than a half million Catholics in eastern Missouri, says, "I am pleased to support the establishment of the Newman Center at Maryville University which provides a special opportunity for college students to engage with their peers at a deeper spiritual level.  Evangelization is a key area of concentration within the Archdiocese of St. Louis and the creation of a welcoming atmosphere on campus for students to explore their Catholic faith will only enhance our efforts among the young Church."
Maryville University has a Catholic heritage, but the University was turned over to a lay board of trustees in 1972. The Newman Center allows Maryville to draw from its Catholic ties while augmenting the ways the University serves the spiritual needs of students.  Stephen Di Salvo, Director of Campus Ministry and Community Service says, "Maryville University embraces people from all faiths, but this helps us hold on to where we've come from."