Maryville Named a 'Top 20 Fastest-Growing University'
---
8/26/14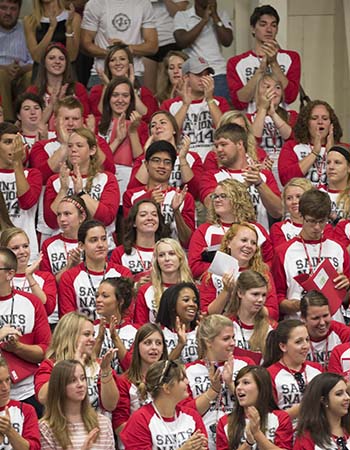 [St. Louis, Mo.] —Maryville University is one of the top 20 fastest-growing universities in the country, as recognized by the Chronicle of Higher Education. The ranking is timely: Maryville's 2014 freshman class is the largest ever, capping a decade of consecutive record-breaking enrollments for the University.
The Chronicle reports Maryville experienced an impressive 28 percent growth in student population between 2002 and 2012. More significantly, extending that figure to 2014, Maryville's overall enrollment rate has increased by 52 percent.
Along with recent accolades catapulting Maryville University into the regional and national spotlight, a number of key institutional strategies account for such tremendous growth, says President Mark Lombardi, PhD.
"At Maryville University, our student-centered programs, teaching excellence, and flexible learning formats exemplify innovation and workforce responsiveness," says Lombardi. "Maryville is one of America's Top 20 Fastest-Growing Colleges—and one of the country's top universities for return on investment—because our graduates consistently achieve their goals."
The Top 20 Fastest-Growing Colleges ranking is included in the Almanac of Higher Education 2014, published by the Chronicle of Higher Education. The report ranks Maryville 19th nationally for private, nonprofit universities in rate of growth based on data provided by the U.S. Dept. of Education.
Regional and National Accolades
In the past year, U.S. News and World Report named Maryville the No. 1 Overperforming University in the nation for the second consecutive year. The University is also recognized in the top 15 percent of all universities for return on investment (ROI) by Educate to Career. As the highest-ranked university for ROI in the St. Louis region, and one of only three in St. Louis ranked nationally, Maryville University sets a high standard in helping students develop marketable skills and obtain high-paying jobs in their fields of study.
Maryville student-athletes continue to excel both on and off the field, attracting the attention of the NCAA Great Lakes Valley Conference (GLVC), which awarded All-Academic honors to 164 Saints athletes. Ten Saints athletic squads earned the GLVC Team Academic All-GLVC Award, tied for the most in the league.
Academic Advancements
Maryville University continually expands academic programs and creates new majors to serve the needs and interests of students, as well as meet the demands of the twenty-first century workforce. Cyber Security,  financial services management, and healthcare practice management are new undergraduate majors.
This fall, all Maryville University graduate and doctoral programs are expected to experience a 6 percent increase over 2013. Adults appreciate the flexibility of Maryville's MBA program, which is offered in a traditional learning environment, as well as in hybrid, one-year, and fully online formats.
Additionally, three of Maryville's advanced practice nursing degrees are offered entirely online, including Family Nurse Practitioner (FNP), Adult/Gerontology Nurse Practitioner (ANP), and Doctor of Nursing Practice (DNP).
About Maryville University
As a private, independent university, Maryville enrolls more than 5,500 students and offers more than 75 degrees at the undergraduate, master's and doctoral levels. Maryville has forged its outstanding reputation based on academic outcomes, small classes, individualized student attention, and academic excellence.