Maryville University Holds 138th Commencement
---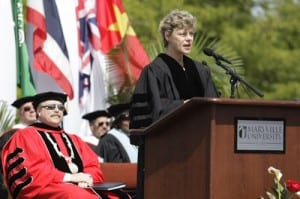 5/7/11
Maryville University honored the achievement of more than 800 graduates during the 138th commencement held in an outdoor campus ceremony on Saturday, May 7.
Cokie Roberts, award-winning journalist, best-selling author and respected news commentator, addressed the 2011 graduates. Roberts, who is also a senior news analyst for National Public Radio and a Library of Congress "Living Legend," was presented with an honorary Doctor of Humane Letters degree.
Peter F. Benoist, who served as a member of the Maryville University Board of Trustees from 1992 to 2010, including six years as chair, also received an honorary Doctor of Humane Letters degree. Benoist, who has been named one of the "Most Influential St. Louisans" by the St. Louis Business Journal, serves as president and chief executive officer of Enterprise Financial Services Corporation. Many members of Benoist's family—going back through generations to the 1890s—are Maryville alumnae.
Delving into the pages of history, Roberts lauded the pioneering work of Sr. Philippine Duchesne, RSCJ, about whom she has written in her book, Ladies of Liberty: The Women Who Shaped Our Nation. She noted that Maryville originally evolved from schools founded by Duchesne and the Religious of the Sacred Heart.
"What she was doing, and the reason that I include her in writing about early American history, is what women all over the country were doing. They were taking leadership roles, women of all faiths, to set up what essentially was a social safety net," Roberts said.
Roberts also urged Maryville's graduates to become involved in public service. She is the daughter of former ambassador and long-time Democratic congresswoman from Louisiana, Lindy Boggs, and of the late Hale Boggs, also a Democratic congressman from Louisiana who was majority leader of the House of Representatives.
"If you want to be agents of change, public service is a still a truly wonderful calling and a place where you can be those agents," she said. "We need talented people like you. We need you to be in there, engaged and running."
Roberts also recognized the work of Maryville's Center for Civic Engagement and Democracy.
"Of course that's what this institution is committed to, it is committed to service. You will serve in many ways. The teachers among you will inform our lives; those of you in the humanities, music and fine arts will enrich our lives; the nurses and others in the healing arts will enable our lives; those in the sciences will improve our lives; the business graduates will enhance our lives; and actuarial science graduates will insure our lives."
In closing, Roberts said, "As you go out from here I want you to think of the special role that public service has played in our country and realize what a great privilege is to be able to serve."
Two graduates also delivered commencement addresses. Shannaya McFarland, who earned a B.S. in business administration, spoke on behalf of non-traditional, Weekend and Evening College students. She described the challenges and triumphs of pushing forward in her education.
"My path I'm sure like many other nontraditional students has been long, difficult and at times burdensome, but looking back I can definitely say without a doubt that it was all worth it," McFarland said.
Jenna Bartak graduated with a B.A. degree in organizational leadership. She represented traditional undergraduate students.
"I changed my major a few times and sought guidance from multiple people regarding what path I should take and the course for my future," she said. "Fortunately, what I have found most inspiring about Maryville is that knowledge isn't just obtained within the classroom.  I learned valuable lessons fostered through conversations with professional staff and faculty; my critical thinking and interpersonal skills were developed through involvement in student organizations, and I discovered that it is encouraged to question what I thought I knew about myself and the world around me."
Maryville's School of Health Professions awarded 252 diplomas; the School of Education awarded 131 diplomas; the John E. Simon School of Business awarded 194 diplomas; and the College of Arts and Sciences awarded 226 diplomas.
About Maryville University
Founded in 1872, Maryville University is a four-year, private university located in St. Louis, Missouri, and ranked by US News & World Report as one of America's Best Colleges in the Regional Universities – Midwest category. Maryville University students may choose from 50 academic programs, including degrees at the bachelor's, master's and doctoral levels. Approximately 3,700 students are enrolled through the College of Arts and Sciences, the John E. Simon School of Business, the School of Health Professions and the School of Education.