Maryville University and Lewis and Clark Community College Partner to Offer Music Students New Degree Opportunity
---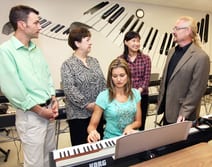 10/4/11
Maryville University's School of Health Professions and Lewis and Clark Community College in Godfrey, Ill, have established an exciting new academic partnership. With this affiliation, students completing an associate's degree in music at Lewis and Clark can seamlessly transition into Maryville's undergraduate program in music therapy.
"We're very excited about this partnership," says Cynthia Briggs, PsyD, director of Maryville's music therapy program. "It provides music students with a tremendous opportunity to take the next big step in advancing their education in the growing field of music therapy. It's a win-win situation for students."
Lewis and Clark offers an associate's degree in fine arts, with a music education or music performance emphasis. Students in those programs are now eligible to transfer into Maryville's music therapy program and complete their professional studies. Maryville offers both bachelor's and master's degrees in music therapy.
The Maryville Music Therapy Program was established in 1972 and is the only degree program of its kind in the St. Louis area. The program is fully accredited by the National Association of Schools of Music (NASM) and is fully approved by the American Music Therapy Association (AMTA).
Louis Michael, associate professor and coordinator of music at Lewis and Clark, said the partnership will offer more career opportunities for music students.
"Our students now have another opportunity to use their talents to touch the lives of others through this career path," said Michael. "We are looking forward to working with Maryville and students interested in pursuing music therapy."
Music therapists work to enhance quality of life, maximize well-being and increase self-awareness for their clients. They serve a wide variety of individuals, including those with mental disorders, substance abuse issues, Alzheimer's disease, autism, developmental disabilities, physical disabilities, sensory disorders and acute or chronic pain.
About Maryville University
Founded in 1872, Maryville University is a four-year, private university located in St. Louis, Missouri, and ranked by U.S.News & World Report as one of America's Best Colleges in the National Universities category. Maryville students may choose from 50 academic programs which include nine master's and four doctoral degree offerings. Maryville is distinctive among other universities in the region for its unique and highly acclaimed programs in music therapy, actuarial science and sport business management. More than 3,800 students are enrolled at Maryville through the College of Arts and Sciences, John E. Simon School of Business, School of Health Professions and School of Education.