Maryville students hone research skills at Shaw Nature Reserve
---
7/25/12
ST. LOUIS  – At the Shaw Nature Reserve, five Maryville University undergraduate students and Maryville Assistant Professor of Biology Kyra Krakos are conducting field research this month that could help scientists identify how changes in the region's climate impact local plant communities.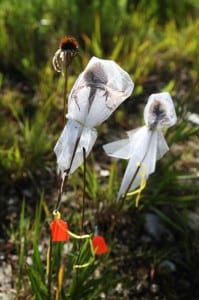 Students, led by Krakos, are wrapping plants in gauze-like fabric to help them collect information about plants' pollinators and bloom calendars. Once they collect and record data, students head into Maryville labs.
They'll compare their own information to historical plant records for the site and share their information with site managers who will incorporate their observations into a study that spans more than 80 years.
The stunning 2,400-acre Missouri Botanical Garden property, located 35 miles southwest of St. Louis, is a research haven for students despite the summer's record heat. Working carefully, students explore questions designed to glean more information about the reproductive biology of the Shaw Nature Reserve's native plants.
It is a valuable opportunity. Students majoring in various sciences are learning how to tag plants, collect samples and accurately record what they find and observe. The reserve provides an outdoor classroom, complete with the sounds of nature.
The Shaw Nature Reserve boasts an incredible diversity that exists naturally in the region. In the 1920s, when air pollution created largely from coal-fired factories and furnaces threatened plant life closer to St. Louis, Botanical Garden trustees bought the nature reserve land. As a result, records of native plants there date back decades.
That's important as Missouri Botanical Garden researcher Peter Hoch, Krakos and the students study patterns in plant populations. The study includes a look at plant pollinators, including bees, insects, birds, bats and other creatures that travel between flowers, depositing pollen needed to produce fruit and seeds.
Krakos explained of the students' projects, "They feed into a larger project looking at the impact of climate change on flowering calendars and pollination of plants." Timing is everything, because plant reproduction could be in question if plants and pollinators become uncoupled.
More knowledge about seed sets, the production of seeds after a plant has flowered, is important both to agriculture and can be used to predict whether native plants will persist in a region, she said. "The great part about the student projects is students can have their own projects with their own questions and their own data that is publishable, and it feeds into a larger project which will span six years," she said.
Hoch said researchers have found that renowned botanist Edgar Anderson recorded everything in flower at the property each week from 1937 to 1942. Archivists have maintained his original data for the site. Anderson worked as a geneticist at the Missouri Botanical Garden and made important contributions to our understanding of plant genetics.
For the past four years, researchers have also recorded data about the same property, and they have additional data gathered from the late 1970s to the early 1990s with which to work. In addition to an overview of plant life at the reserve, researchers hope to look at individual species such as wild petunia to see if the blooming patterns have changed. They are also gathering weather and insect data. "If we put all of the data together, we'll get a more powerful picture of the reproductive biology of the entire community, how it affects insects and how it affects plants," Hoch said.
He hopes the study will lead to new discoveries about native plants, crops and even plants known to cause allergies.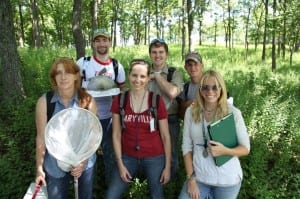 After hiking through a glade with a net in hand and observing wild petunia pollinators, biology student Melisa Hendrix, 47, of De Soto said, "This is great, just getting around the property, getting to do the work. I never really thought about plants the way I think about them now. This has opened my eyes."
 Other students taking part in the research are Missouri residents Tim Payne, 24, of Ballwin; Katie Park, 24, of Ballwin; Adam Hoeft, 26, of Washington; and Ryan Hulsey, 19, of Bridgeton.