Maryville, STLCC Partner in Health Professions Programs
---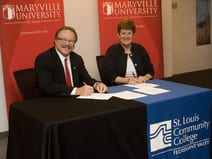 6/29/10
Through a new academic partnership, students in the deaf communications studies program at St. Louis Community College-Florissant Valley can seamlessly complete a bachelor's degree in rehabilitation services at Maryville University.
The two institutions now offer a program in which students who complete an associate degree in deaf communications studies/interpreter education at STLCC-Florissant Valley can transfer as juniors to Maryville's undergraduate program in rehabilitation services. Maryville also offers a master's degree in rehabilitation counseling.
"For the students in the associate degree program in deaf communication studies, this will help them reach into a more diverse job market," said Barbara Parker, CRC, LCPC, director of Maryville's rehabilitation services program. "It also exposes them to the huge community network that hires our health professions graduates."
The agreement was signed by Mark Lombardi, PhD, president of Maryville University, and Marcia Pfeiffer, PhD, president of STLCC-Florissant Valley, on June 23.
"The deaf communications studies program exposes students to a broad range of needs within the deaf community, which includes interpreting, but also includes many other professions that serve deaf individuals," said Tom Flynn, STLCC program coordinator of deaf communication studies. "We are grateful for this opportunity to collaborate with Maryville University to better serve our students and deaf individuals in the St. Louis metropolitan area."

About Maryville University
Founded in 1872, Maryville University is a four-year, private university located in west St. Louis County. Ranked by U.S. News & World Report as one of America's Best Colleges in the Masters-Midwest category, Maryville University students may choose from 50 academic programs, including degrees at the bachelor's, master's and doctoral levels. Among recent graduates, 82 percent are employed or attending graduate school. More than 16,000 Maryville alumni work and live in the St. Louis region.