Maryville Retains Top Tier Ranking Among Midwest Universities
---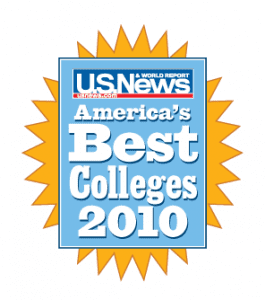 8/24/09
For the seventh consecutive year, Maryville University has been recognized for excellence by U.S. News & World Report. In the magazine's "America's Best Colleges 2010" review, Maryville retains its ranking among the top 30 universities in the Master's – Midwest category.
"This ranking acknowledges Maryville's standing among the Midwest's great universities," said Mark Lombardi, president. "This recognition will motivate us to strive and continue to enhance all aspects of our fine University."
"America's Best Colleges 2010" positions Maryville as one of the highest-ranked universities in St. Louis and throughout Missouri in the Master's-Midwest category. The designation affirms Maryville's mission to provide a wide-range of undergraduate programs, along with a growing number of master's level and doctoral programs.
U.S. News & World Report reviews a number of key indicators in ranking colleges. Academic reputation, commitment to instruction, rates of retention and graduation, student selectivity, financial resources and alumni giving are among the considerations.
Maryville University, founded in 1872, is a four-year, private university located in west St. Louis County. Maryville students may choose from 50 academic programs, including degrees at the bachelor's, master's and doctoral levels. Among recent graduates, 94 percent are employed or attending graduate school. More than 15,000 Maryville alumni work and live in the St. Louis region.